You have probably heard about the importance of speed on websites. But what exactly does it mean? And how do you optimize your website for speed?
You can start with the basics of running on a good server and later choose a good performance plugin with features such as caching and CSS/JS optimization.
To keep things easy, below is a list of hand-picked plugins to optimize or fix any of the issues from Core Web Vitals – the new algorithm from Google – and Pagespeed which is Google's speed test tool. Consider plugins that are compatible with your current plugin stack, verifying compatibility.
To see the complete plugin features comparison, scroll to the bottom or click here.
1. Wp Rocket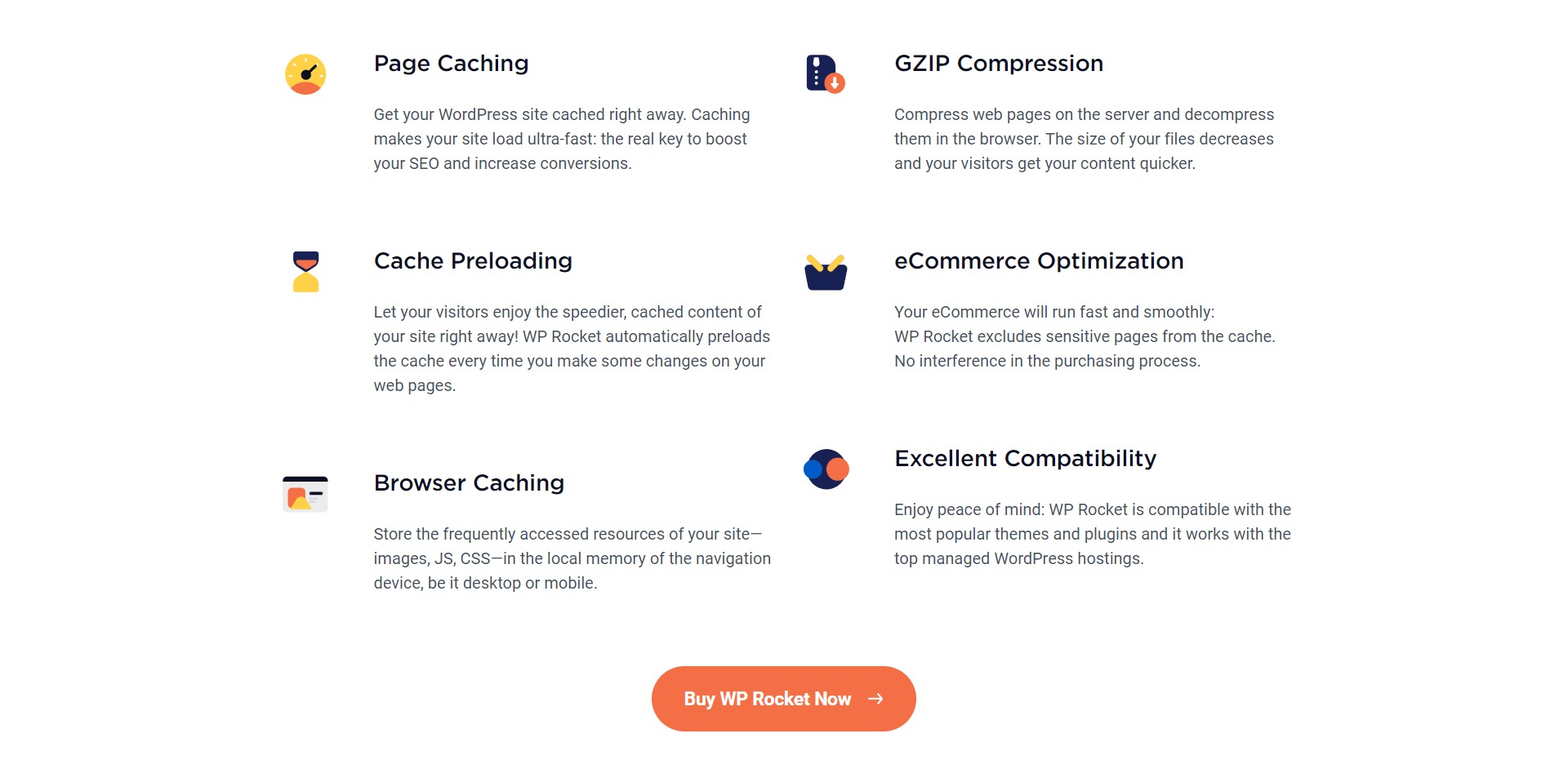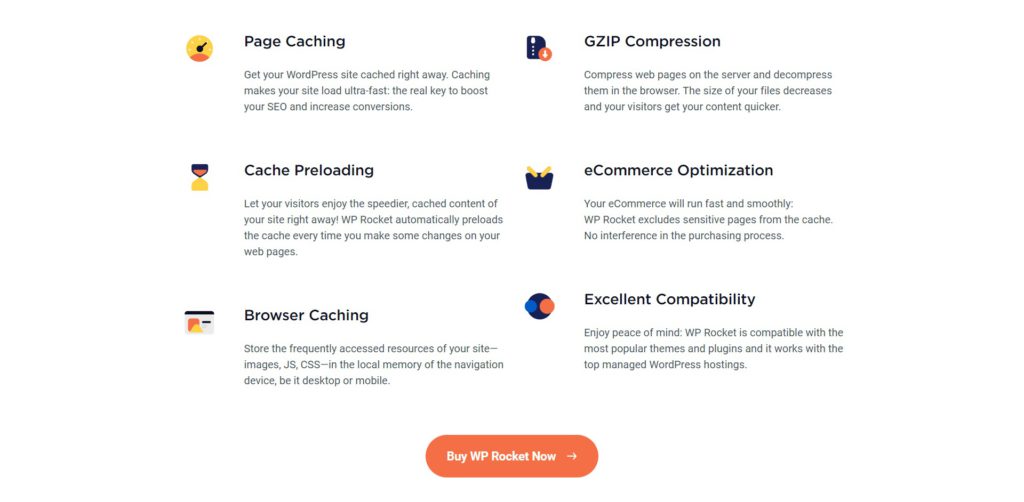 Leader in the cache performance, it has many new features released to help improve Core Web Vitals, including removing unused CSS and delaying all Javascript but not essential ones by default:
Delay Javascript until user interaction
Critical CSS
Cloudflare integration
Database Optimization
HTML/CSS/JS minification & compression
DNS prefetching, preloading
Remove unused CSS
Lazyload
For CDN, consider Rocket CDN $8/month
For Image Optimization + WebP, consider Imagify $10/month
The yearly pricing on Wp Rocket plans are:
WP Rocket 1 website license: $49
WP Rocket 3 websites license: $99
WP Rocket Unlimited website license: $249
If you haven't bought Wp Rocket yet, consider using my reflink.
2. Cloudflare Automatic Platform Optimization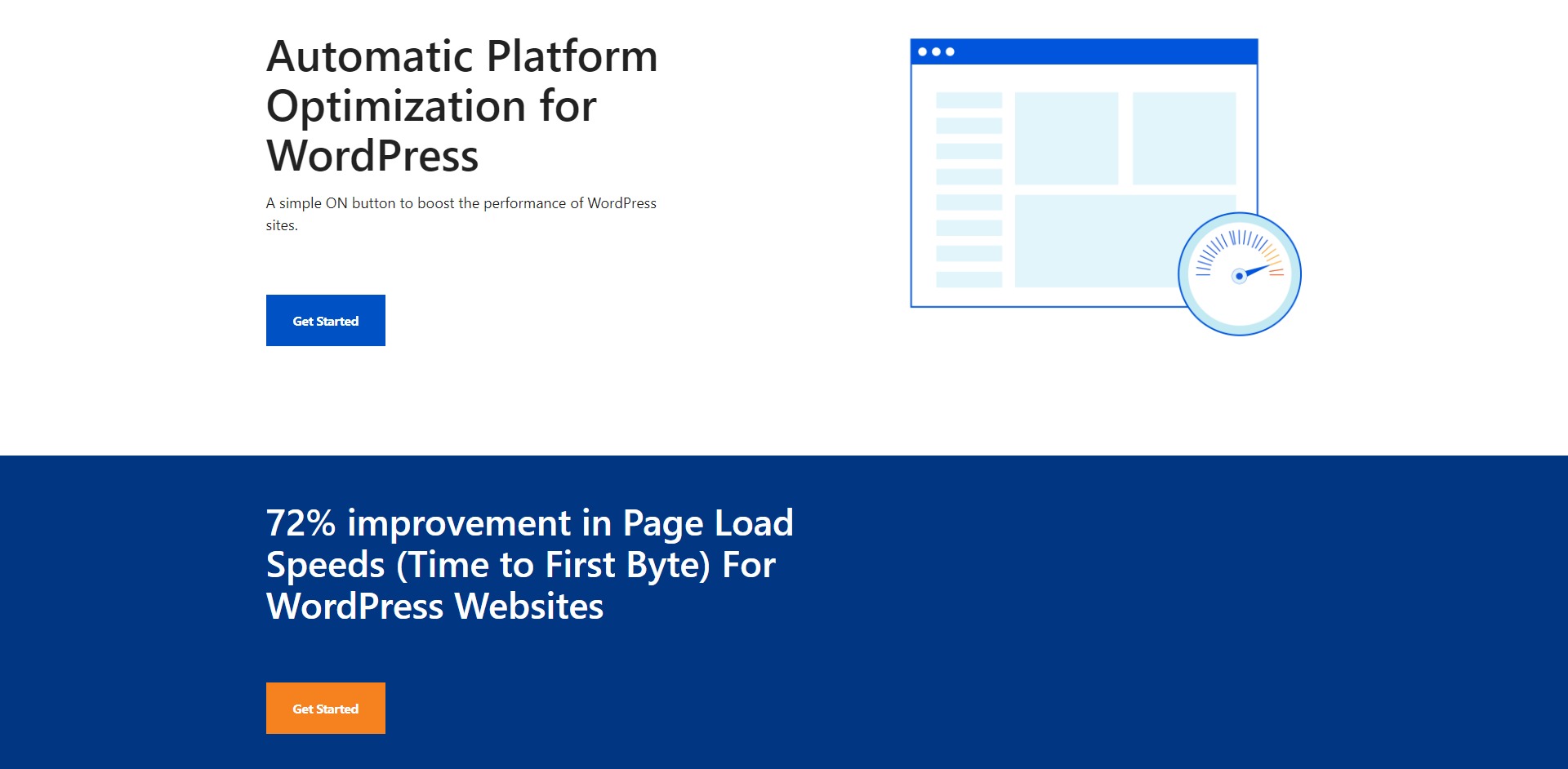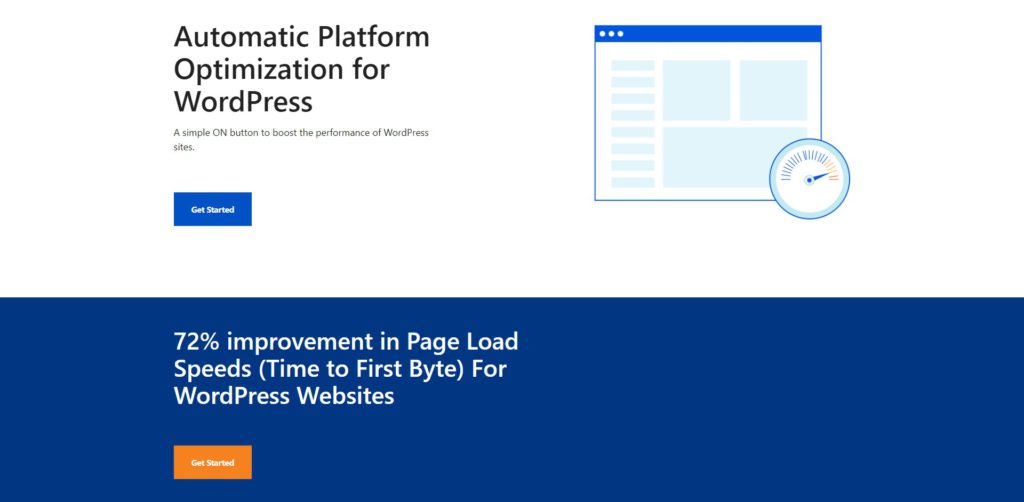 Cloudflare currently offers Automatic Platform Optimizations (APO) for 5$/mo, and it caches the HTML of your WordPress website. This is possible due to Cloudflare Workers that cache dynamic content.
According to Cloudflare, their Automatic Platform Optimization plugin optimized their client's Web Vitals and Core Web Vitals metrics:
"Automatic Platform Optimization consistently demonstrated better aggregate performance among sites we analyzed in TTFB, First Paint, FCP, and LCP metrics. Even more impressive are improvements on both desktop and phone form factors."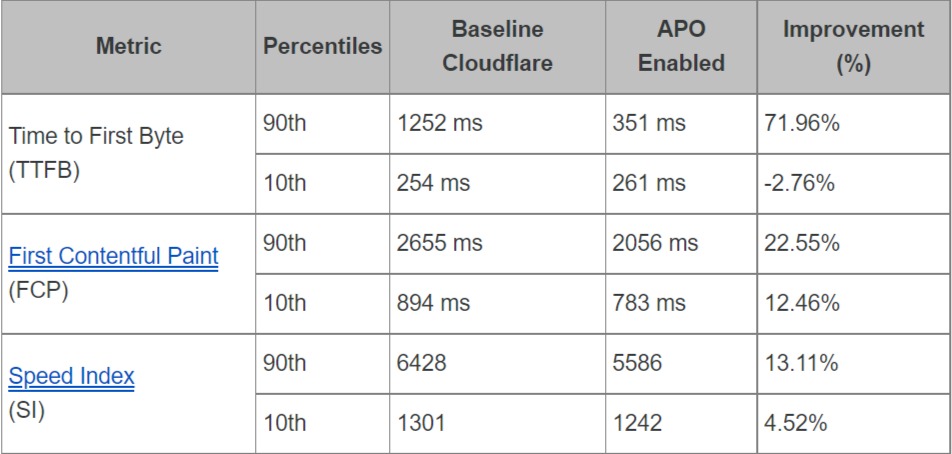 Cloudflare APO is compatible with WP Rocket* and many other plugins, check the compatibility here.
*Cloudflare APO cache needs to be manually purged on every Wp Rocket change.
3. Asset Cleanup
Asset Cleanup is a free plugin with a paid version that aims to help remove unused css and js from your WordPress.
Asset Cleanup has additional features for advanced users whiling to fine-tune their site with specific rules for removing unused CSS and JS.
It offers the removal of CSS/JS everywhere(all pages of the website), and removal on a specific post type, with both options able to add exceptions(where you want to keep loading it). Asset Cleanup has a note box where you can write down why you removed that asset from loading.
The price of 1-year plan on Asset Cleanup Pro is as follows:
Asset Cleanup Lite: Free
Asset Cleanup Pro 1 Site License: $49
Asset Cleanup Pro 3 Sites License: $79
Asset Cleanup Pro Unlimited Sites License: $149
Consider using our reflink for buying Asset Cleanup Pro
4. Nitropack
Nitropack is currently the preferred solution to improve WordPress Pagespeed websites. According to Nitropack, it now powers more than 91.000 websites.
Nitropack has optimization levels that help non-developers to speed their website and have their Pagespeed score improved instantly, across all pages. One of the downsides of that may be the downgrade resulted in delaying essential files, resulting in Core Web Vitals issues.
Its main features are:
Delay JS until user-interaction
CDN
Critical CSS
Cloudflare integration
Lazyload + Image Optimization + WebP
HTML/CSS/JS minification & compression
DNS prefetching, preloading
Remove unused CSS (Reduce Unused CSS)
The pricing in 1 year on Nitropack would be as follows:
Nitropack 5.000 pageviews/mo limit(1GB max bandwidth), 1 year plan: Free
Nitropack 50.000 pageviews/mo limit(25GB max bandwidth), 1 year plan: $210
Nitropack 200.000 pageviews/mo limit(100GB max bandwidth), 1 year plan: $510
Nitropack 1.000.000 pageviews/mo limit(500GB max bandwidth), 1 year plan: $1760
Consider using our reflink for buying Nitropack.
5. Perfmatters
Perfmatters can be used to maximize the power of caching plugins such as Nitropack and Wp Rocket(Don't enable overlapping features such as lazyload). It has a Script Manager and allows the removal of unused Javascript or CSS.
It also offers other WordPress improvements, such as remove unused dashicons CSS.
The price of 1-year plan on Asset Cleanup Pro is as follows:
Perfmatters 1 Site License: $25
Perfmatters 3 Sites License: $55
Perfmatters Unlimited Sites License: $125
Consider our reflink for buying Perfmatters.
6. Jetpack Boost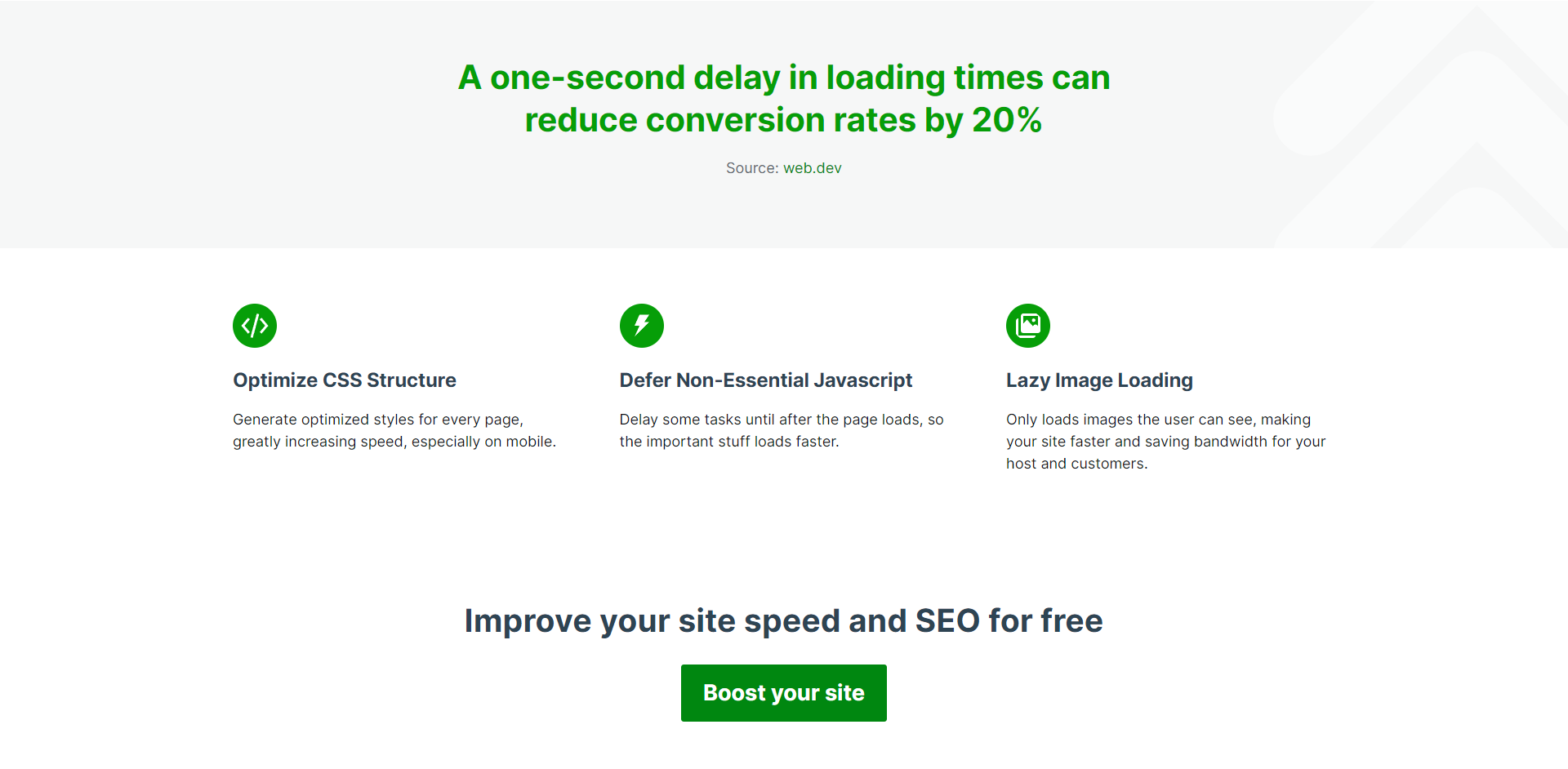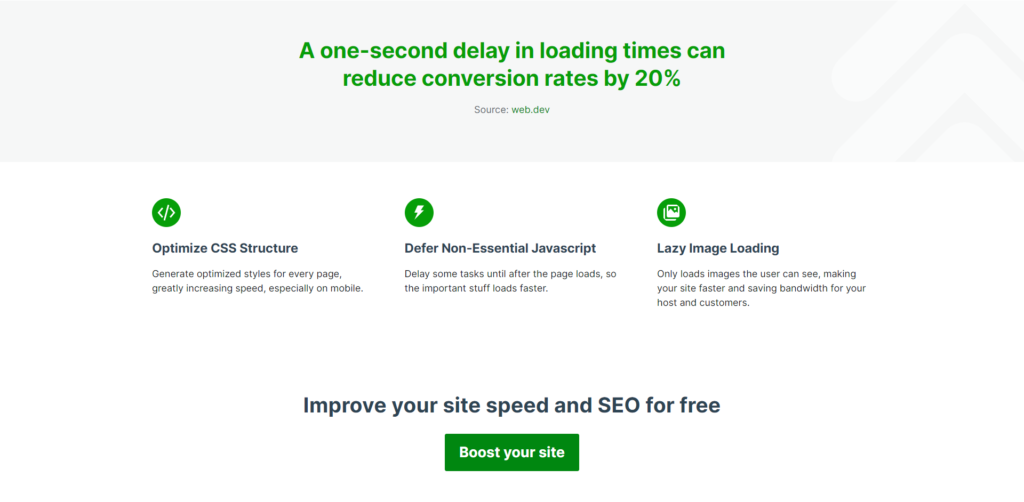 Jetpack Boost can complement websites that use the hosting proprietary speed optimization plugins or compatible performance plugins with no overlapping features.
It's currently the only plugin offering a free critical css feature. It also provides lazyload and defer non-essential Javascript(both features might overlap with other plugin features).
Jetpack Boost is offered freely by Jetpack, with no need to have a wordpress.com linked account.
7. Wp Optimize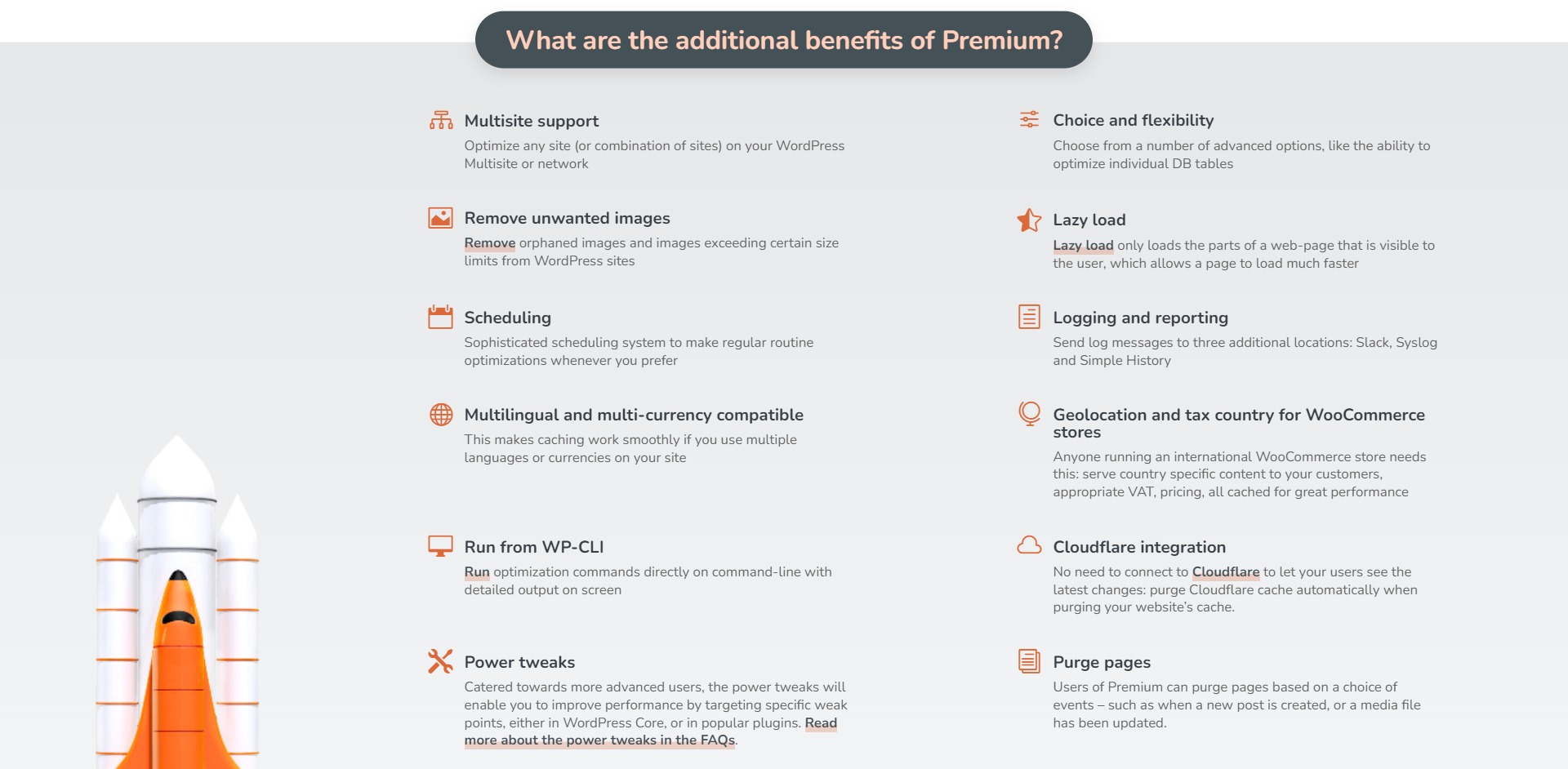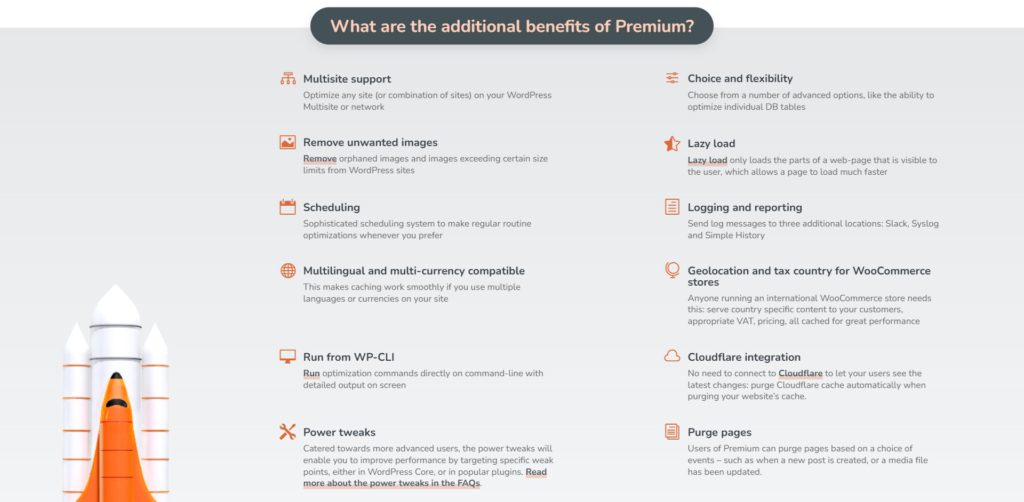 Wp Optimize is a plugin alternative to free cache plugins, and also a strong competitor for paid WordPress performance and cache plugins.
On the free version, Wp Optimize offers unique features that directly improve the Pagespeed such as loading css asynchronously and better Google fonts/Font Awesome loading, alongside so popular as CSS/JS minification, combination, and others.
It also offers Mobile-specific cache, Database Optimization, and Image Optimization which are features most seen on paid cache/performance plugins, on the free version.
Wp Optimize Premium main features:
Run CSS Asynchronously
Lazyload
Cloudflare integration
Database Optimization
Image Optimization
CDN Integration (Partial)
For Delay JS until user interaction, you can complement with Flying Scripts
For Critical CSS, you can complement with Jetpack Boost
Some remaining features of Wp optimize Premium are Multisite support, Multilingual and multi-currency compatible caching, Geolocation, and tax country for WooCommerce stores.
The pricing (1-year) on Wp Optimize would be as follows:
8. Wp Meteor
Wp Meteor can be used as a complement to a majority of performance and cache plugins, including Wp Rocket(It has 100% compatibility with Wp Rocket).
It's free and developed using recent plugin exclusions which might offer excellent compatibility with any major plugin or theme.
9. Jetpack
Jetpack has the best free CDN in the WordPress space. No access or size limits in the free plan. Host your WordPress images on a CDN for free by installing and enabling Jetpack's feature.
You need a wordpress.com account linked to use the Jetpack services.
10. Autoptimize
Autoptimize is a free plugin offering a range of optimization features including basic and advanced features:
Minify Javascript and CSS.
Compress and Combine Javascript and CSS.
Cache.
Preload and preconnect.
Lazyload
HTML/CSS/JS minification & compression
DNS prefetching, preloading
Features and Price Summar Comparison
| | | | | |
| --- | --- | --- | --- | --- |
| Features | Wp Rocket | Nitropack | Wp Optimize | Autoptimize |
| Caching | ✔️ | ✔️ | ✔️ | ✔️ |
| Delay JS until user-interaction | ✔️ | ✔️ | (Wp Meteor) | (Wp Meteor) |
| CDN | (Rocket CDN $9/month) | ✔️ | (Choose a CDN) | (Choose a CDN) |
| Critical CSS | ✔️ | ✔️ | (Load CSS async) | ($10/mo CriticalCSS.com addon) |
| Cloudflare integration | ✔️ | ✔️ | ✔️ | ✔️ |
| Database Optimization | ✔️ | (Advanced Database Cleaner) | ✔️ | (Advanced Database Cleaner) |
| Price (Yealy 1 website license plan) | $49 | $210 | $49 | Free |
Get your Core Web Vitals optimized