Page load time and Core Web Vitals metrics are now both a ranking algorithm and caching is an essential part of Wordpres page speed optimization.
With a good amount of caching plugins available, how can you define who is the best? A recent tool created using Core Web Vitals field data might help you.
The Core Web Vitals Technology report uses field data to get Core Web Vitals metrics and display the number of passing pages with "Good" CWV metrics per technology. Field data is the one used by Google in the ranking algorithm.
In comparison, when single-run testing caching plugins with speed testing tools such as Gtmetrix, you will get synthetic data, which is a set of conditions of device and connection settings that tries to simulate a real end-user.
Best WordPress caching plugin rank
Here's a leaderboard of the top WordPress caching plugins ordered by Core Web Vitals performance on mobile as of April 2022:
| Plugin | Origins (Eligible) | Good Core Web Vitals % |
| --- | --- | --- |
| 🥇Nitropack | 9.999 | 40,7% |
| 🥈Wp Rocket | 165.583 | 39,1% |
| 🥉WP Fastest Cache | 53.327 | 32,4% |
| WordPress(all) | 2.108.216 | 28,7% |
| WP-Optimize | 22.803 | 28,3% |
| Autoptimize | 44.500 | 27,9% |
An origin is a URL such as "https://example.com", either HTTP or HTTPS, and optional subdomain(www.example.com). No trailing slash (/) or file path (/blog/example-path).
An eligible origin is if it has enough Core Web Vitals CRUx data. A good Core Web Vitals data is a page with a 'Good' metric within the 75th percentile of page loads, segmented across mobile and desktop devices, but in this case, we filtered by mobile metrics.
What is caching (cache) and how check if WordPress is using
In computing, caching refers to the act of storing a subset of data, generally in fast access hardware, so that future requests for that data are served up faster than is possible by accessing the data's primary storage location. Caching allows you to efficiently reuse previously retrieved or computed data.
Font: https://aws.amazon.com/caching
When using caching on WordPress, your visitor will have a better user experience after first navigating your website and subsequently having a cached version that will load faster. Depending on the cache solution you're using the loading will be faster.
Before choosing a cache plugin, consider checking if the plugin is compatible with your hosting provider and/or fully compatible with all your currently installed plugins.
How to check if your WordPress is using caching?
You can use Pagespeed. Run a test, if your website results come with the warning "Leverage Browser Caching" for files from your domain, you need to check if the cache is set up correctly or set it up.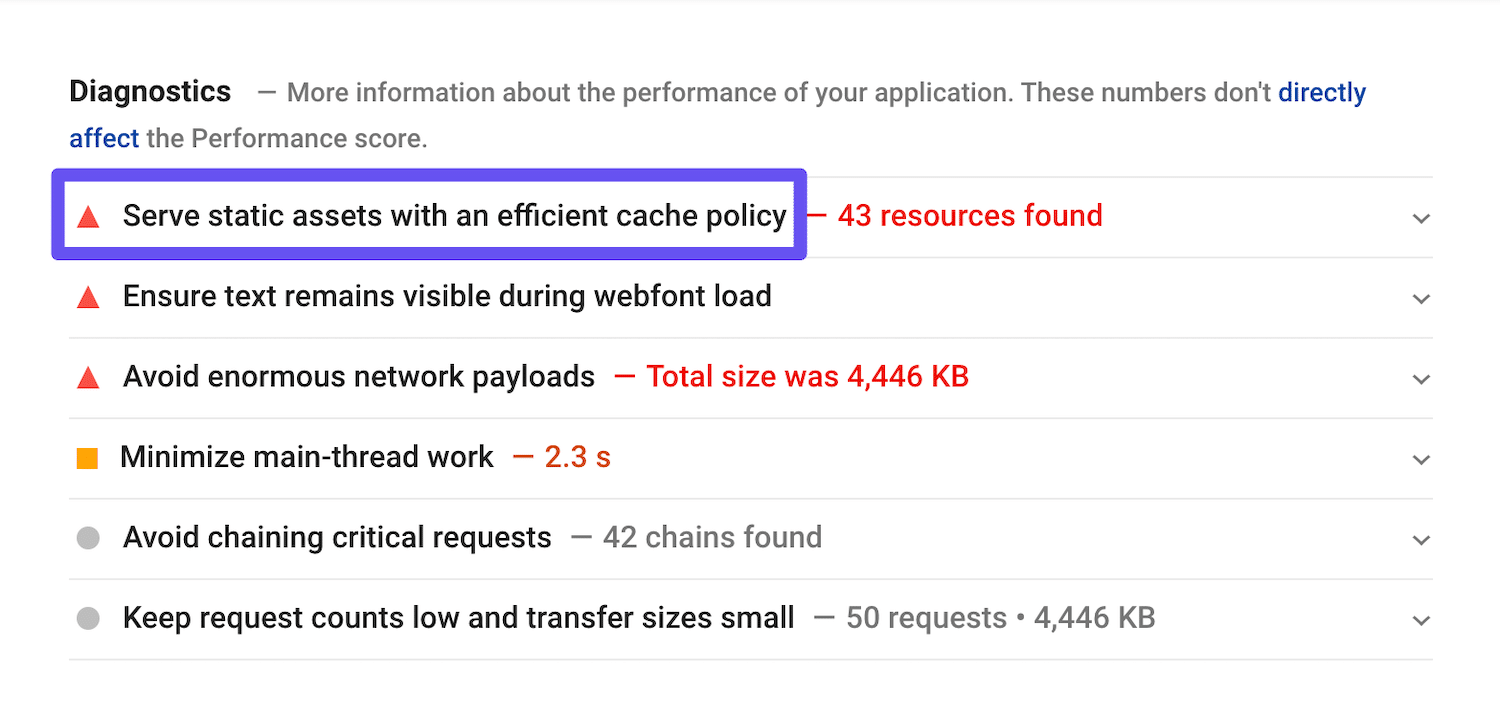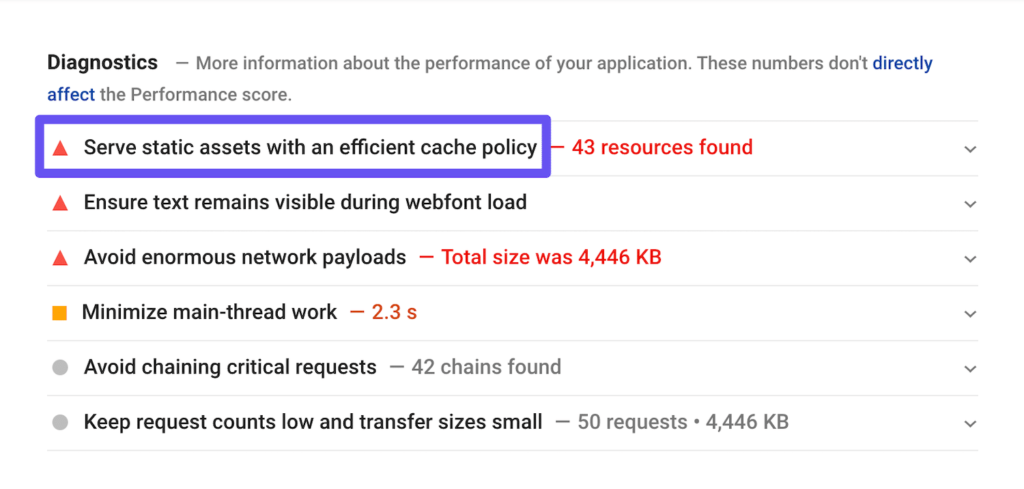 You can also test using the seositecheckup Page Cache test tool.
1. Wp Rocket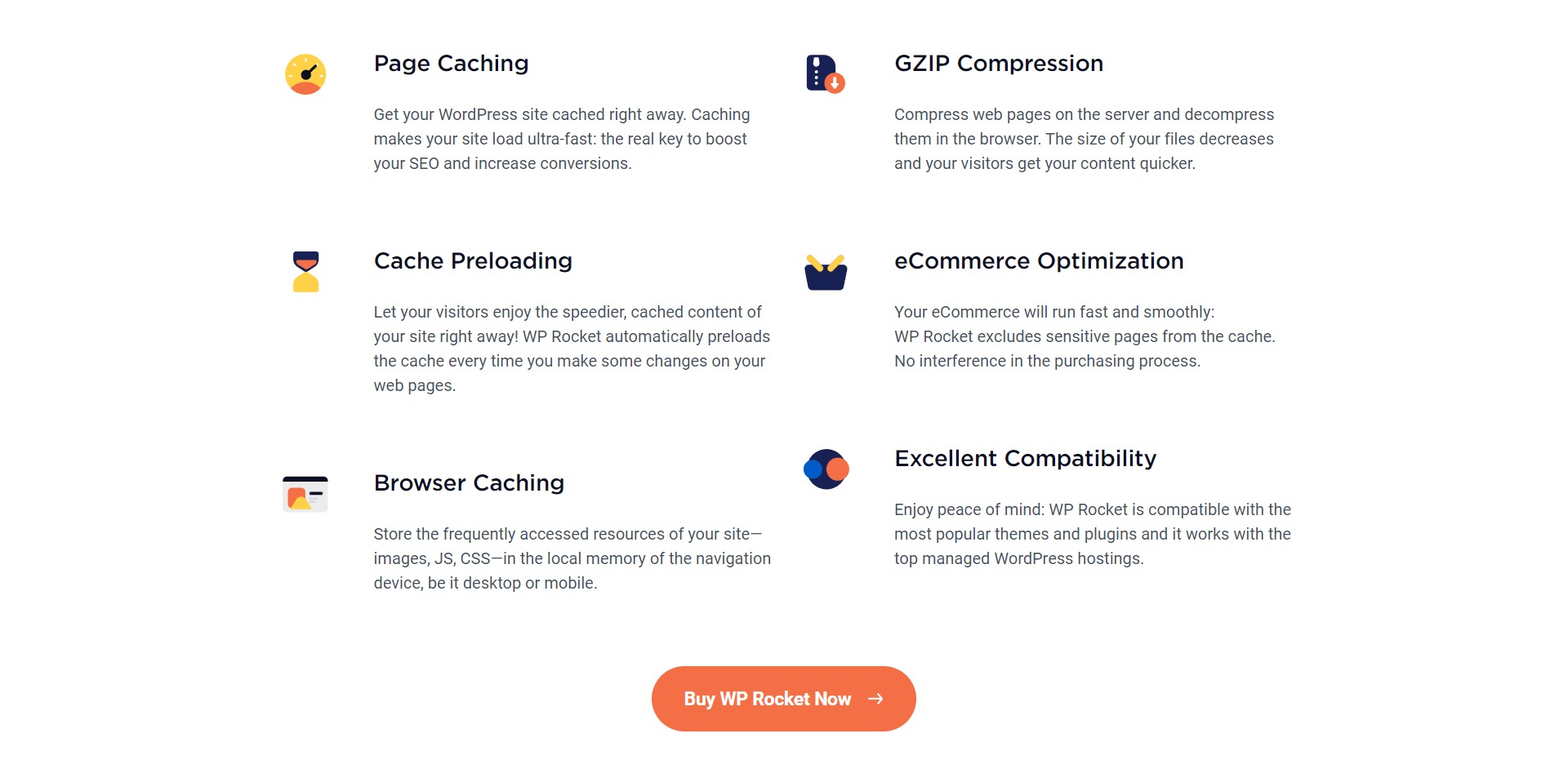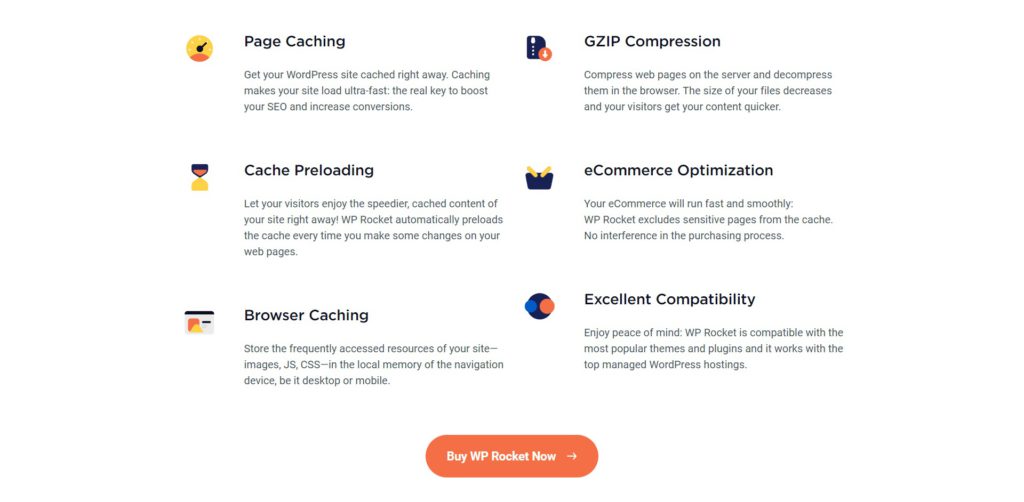 Wp Rocket is an open-source developed plugin and possibly the most popular cache plugin of WordPress.
Wp Rocket is a plugin with strong technical documentation, detailing each of its features with support pages for troubleshooting, with a guide on how to solve any issues. Alongside its large dev community, covering the most edge cases from regular WordPress users on its Github repository.
Leader in the cache performance, it has lots of new features released to help improve Core Web Vitals, including remove unused CSS and delaying all Javascript but not essential ones by default.
Wp Rocket is compatible with the following e-commerce plugins:
WooCommerce
BigCommerce
Easy Digital Download
iThemes Exchange
Jigoshop
WP-Shop
| Functionality | Wp Rocket |
| --- | --- |
| Delay JS until user-interaction | ✔️ |
| CDN | (Rocket CDN $9/month) |
| Critical CSS | ✔️ |
| Cloudflare integration | ✔️ |
| Database Optimization | ✔️ |
| Lazyload + Image Optimization + WebP | (Imagify $10/mo) |
| HTML/CSS/JS minification & compression | ✔️ |
| DNS prefetching, preloading | ✔️ |
| Remove unused CSS | ✔️(beta) |
If you haven't bought Wp Rocket yet, consider using my reflink.
2. Nitropack
Nitropack is a plugin offering freemium services and a paid version, that aims to improve the Pagespeed of your WordPress website.
Nitropack WordPress solution offers integrated CDN and an all-in-one plugin for increasing or improving Pagespeed and speed score. We take a depth look at Nitropack features and summarize some of its initial setup, including all 5 Nitropack optimization levels.️‍
Nitropack is fully compatible with Woocommerce.
Nitropack optimization levels settings
NItropack offers 5 optimization levels, one of them which is manual, allowing to set up manually all of the Nitropack options. For testing Nitropack, you can enable the "Safe Mode" and test the pages optimized by adding ?testnitro=1 to your URLs.
| Functionality | Nitropack |
| --- | --- |
| Delay JS until user-interaction | ✔️ |
| CDN | ✔️ |
| Critical CSS | ✔️ |
| Cloudflare integration | ✔️ |
| Database Optimization | (Advanced Database Cleaner plugin) |
| Lazyload + Image Optimization + WebP | ✔️ |
| HTML/CSS/JS minification & compression | ✔️ |
| DNS prefetching, preloading | ✔️ |
| Remove unused CSS | ✔️ (Reduce Unused CSS) |
️‍🔥 🥳 Start Nitropack with a 5% discount with our coupon code! ️‍🔥 🥳 WPALPHA
3. Cloudflare APO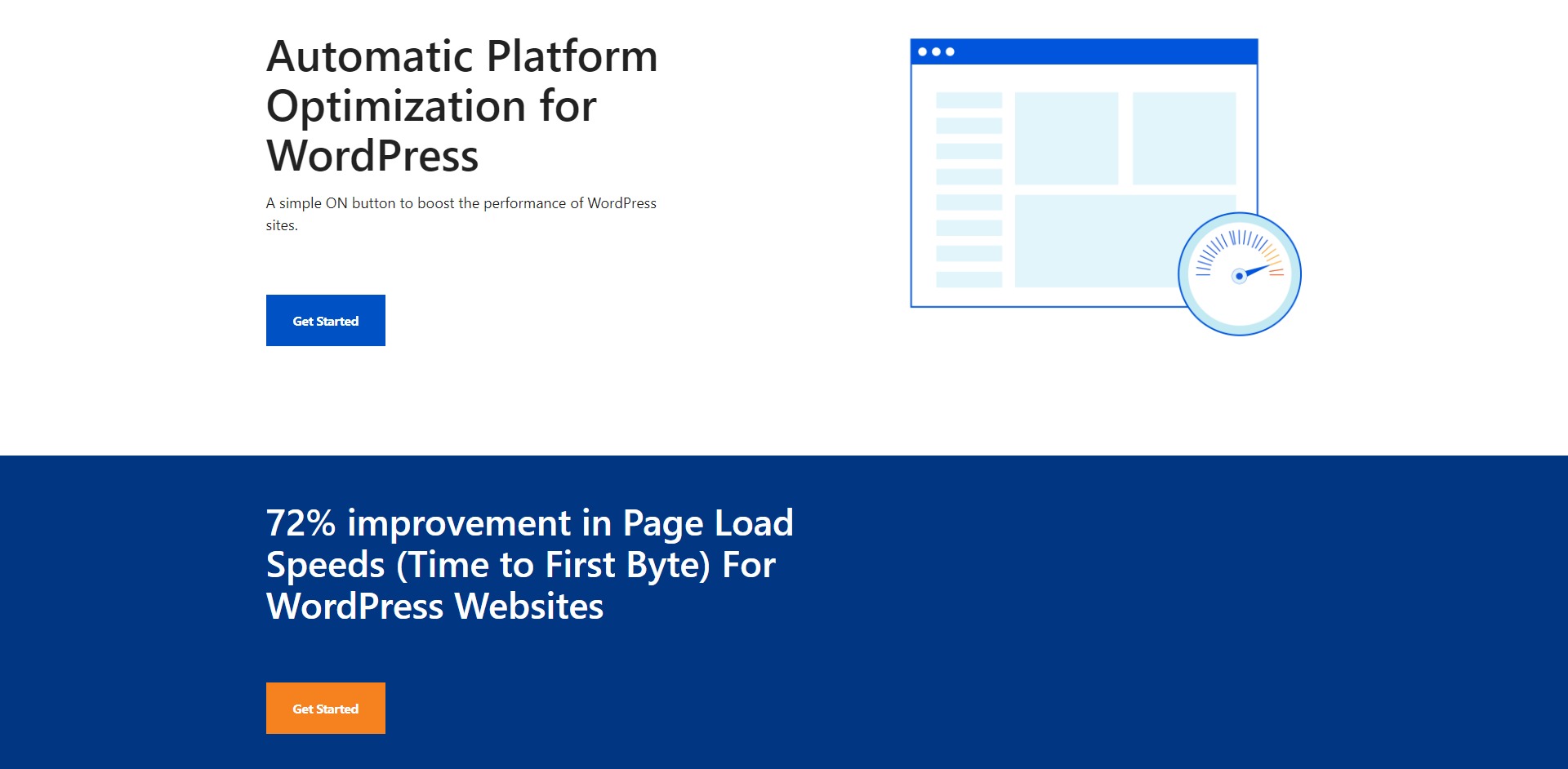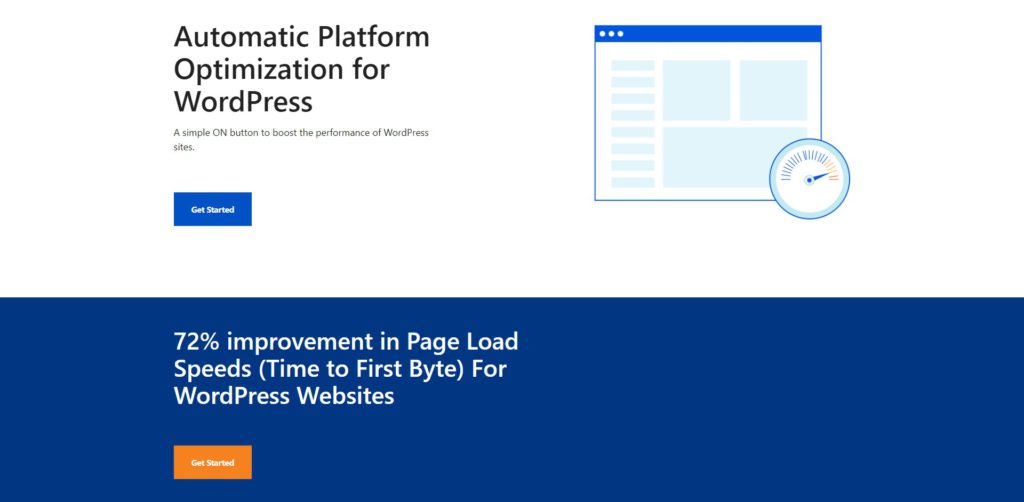 Cloudflare currently offers Automatic Platform Optimizations (APO) for 5$/mo, and it caches the HTML of your WordPress website. This is possible due to Cloudflare Workers that cache dynamic content.
According to Cloudflare, their Automatic Platform Optimization plugin optimized their client's Web Vitals and Core Web Vitals metrics:
"Automatic Platform Optimization consistently demonstrated better aggregate performance among sites we analyzed in TTFB, First Paint, FCP, and LCP metrics. Even more impressive are improvements on both desktop and phone form factors."

Cloudflare's blog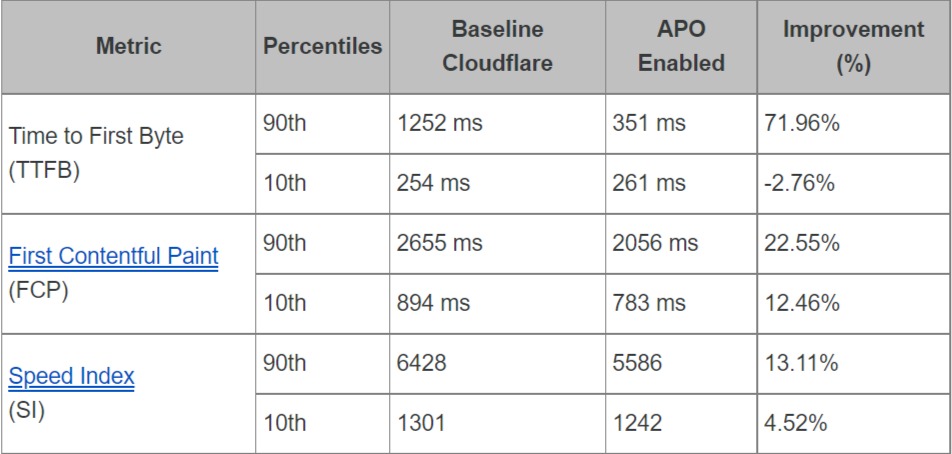 Cloudflare APO is compatible with WP Rocket* and many other plugins, check the compatibility here.
*Cloudflare APO cache needs to be manually purged on every Wp Rocket change.
4. WP Fastest Cache
WP Fastest Cache detaches himself as being the top caching plugin by performance with a 100% free version. In its paid version, WP Fastest Premium offers
Mobile and widget caching
Minify HTML/Minify CSS Plus and Minify JS
Combine JS Plus
Defer Javascript
Images Optimization and WebP
Database Cleanup, Google Fonts Async loading, and Lazy Load.
The pricing for Wp Fastest Premium starts at $50 for 1 website license to $175 for 5 websites license.
5. Wp Optimize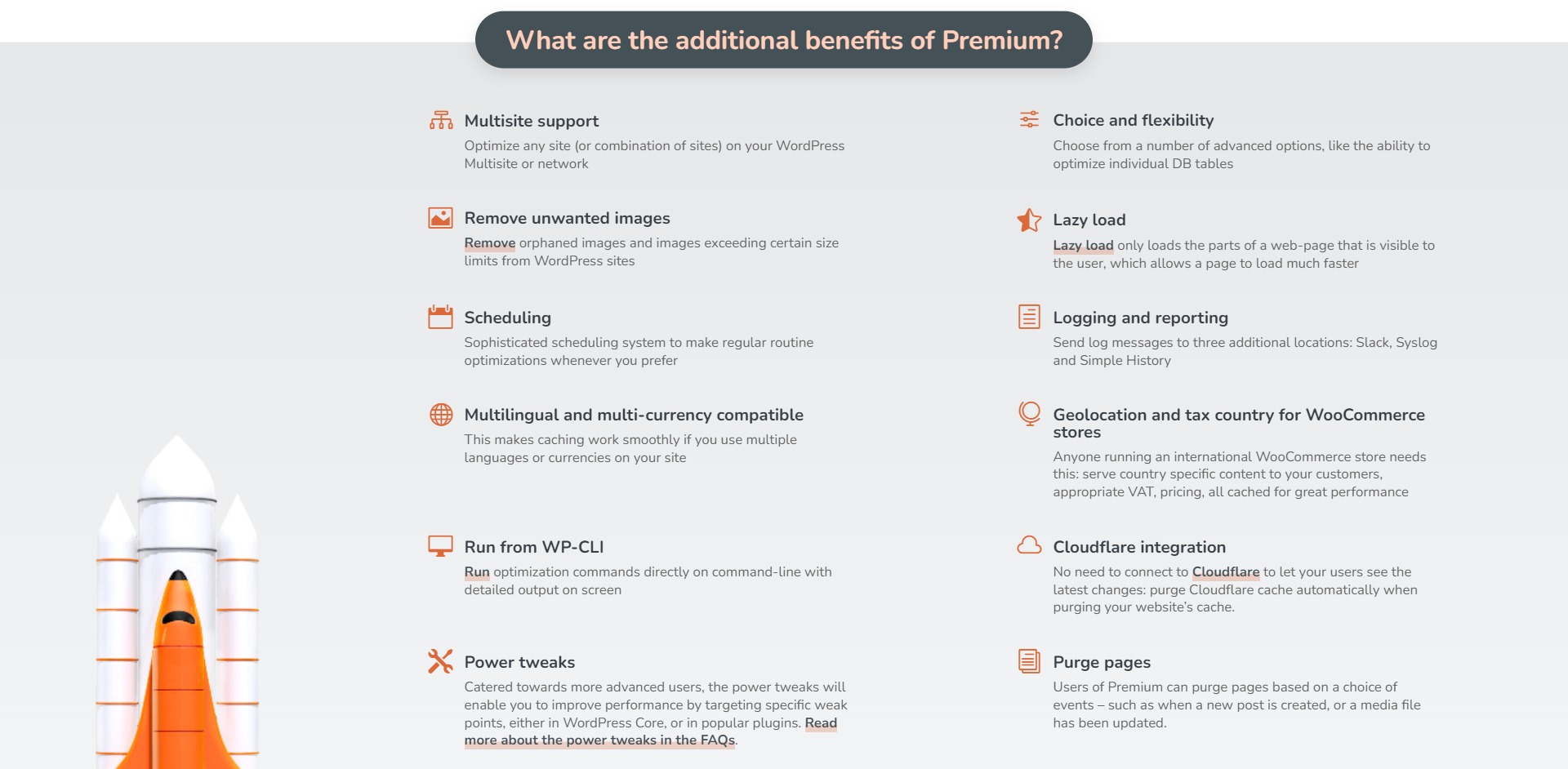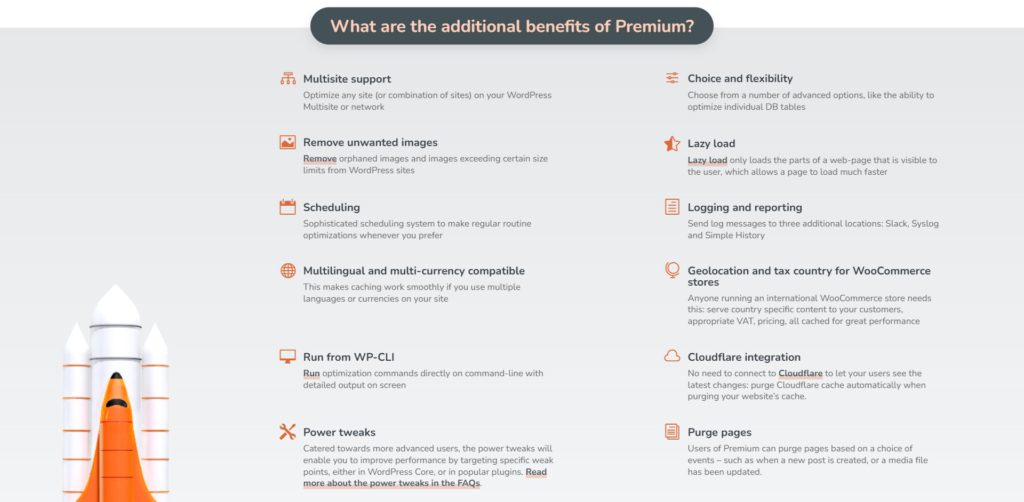 Wp Optimize is a plugin alternative to free cache plugins, and also a strong competitor for paid WordPress performance and cache plugins.
On the free version, Wp Optimize offers unique features that directly improve the Pagespeed such as loading css asynchronously and better Google fonts/Font Awesome loading, alongside so popular as CSS/JS minification, combination, and others.
It also offers Mobile-specific cache, Database Optimization, and Image Optimization which are features most seen on paid cache/performance plugins, on the free version.
Wp Optimize Premium features
The main features of Wp Optimize premium are lazy loading and image compressing. Another feature labeled as premium of Wp Optimize is "Preload key requests", which allows the preload of any asset. The remaining features of Wp optimize premium are as follows:
Multisite support
Preload key requests
Optimize individual tables
Optimization Scheduling
Enhanced logging and reporting
Multilingual and multi-currency compatible caching
Geolocation and tax country for WooCommerce stores
Cloudflare support
6. Autoptimize
A free plugin offering a range of optimization features including basic and advanced features:
Minify Javascript and CSS.
Compress and Combine Javascript and CSS.
Cache.
Preload and preconnect.
| Functionality | Autoptimize |
| --- | --- |
| Lazyload | ✔️ |
| HTML/CSS/JS minification & compression | ✔️ |
| DNS prefetching, preloading | ✔️ |
Get your Core Web Vitals optimized