Although Nitropack ranks high in the Core Web Vitals rank, it may not suit everyone.
Wpalpha compiled an up-to-date list with the top 5 Nitropack alternatives, with features for Pagespeed and Core Web Vitals optimization.
Wp Rocket
Leader in the cache performance, it has many new features released to help improve Core Web Vitals, including removing unused CSS and delaying all Javascript but not essential ones by default:
Delay Javascript until user interaction
Critical CSS
Cloudflare integration
Database Optimization
HTML/CSS/JS minification & compression
DNS prefetching, preloading
Remove unused CSS
Lazyload
For CDN, consider Rocket CDN $8/month
For Image Optimization + WebP, consider Imagify $10/month
The yearly pricing on Wp Rocket plans are:
WP Rocket 1 website license: $59
WP Rocket 3 websites license: $119
WP Rocket Unlimited website license: $299
FlyingPress and FlyingCDN
FlyingPress is a speed optimization plugin from the WordPress dev Gjio, which has also developed the popular plugin Flyins Scripts.
FlyingPress has many Core Web Vitals (Google SEO algorithm) features, including:
Caching
Defer Scripts
Optimize Google Fonts loading
Prioritize Resources – Prioritize resources like the above-fold images, and fonts to load in high priority.
FlyingPress offers the FlyingCDN addon that adds their CDN, which offers custom domain & SSL.
Pricing: FlyingPress $60/year + FlyingCDN $36 (3$/mo) 100GB/limit, 1-year plan: $96/year
Cloudflare APO and Cloudflare Pro
Cloudflare Automatic Optimization is a new tool to improve WordPress TTFB. Cloudflare made a study and concluded that APO optimized their WordPress client's websites TTFB for a 72% improvement.
Not only that, but their clients FCP(First Content Paint) and Speed Index had an improvement of 22% and 13% respectively. Cloudflare APO setup requires changing your domain DNS records.
Cloudflare currently offers Automatic Platform Optimizations (APO) for $5/month, and it caches the HTML of your WordPress website. This is possible due to Cloudflare Workers that cache dynamic content.
Cloudflare APO is compatible(you need to manually purge Cloudflare APO cache) with WP Rocket and many other plugins, check the compatibility here.
Cloudflare Pro is another service which at $20/month offers a myriad of features, including:
Web Application Firewall (WAF)
Lossless Image Optimization
20 Page Rules (+17 than the free plan) – These are meant to improve WordPress usage overall
Cloudflare Pro and Cloudflare APO can be used alongside many other WordPress cache plugins, paid or free.
Wp Optimize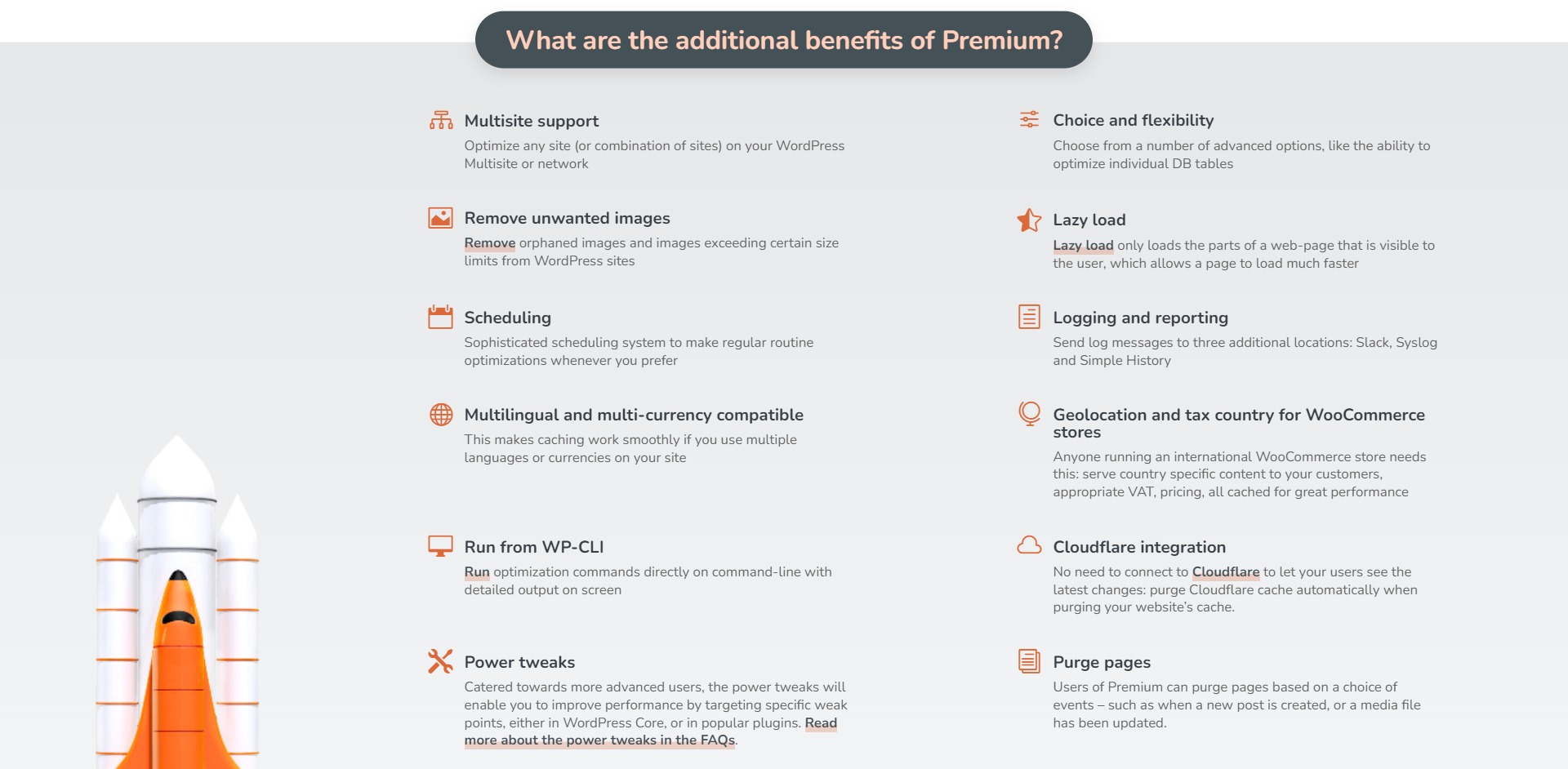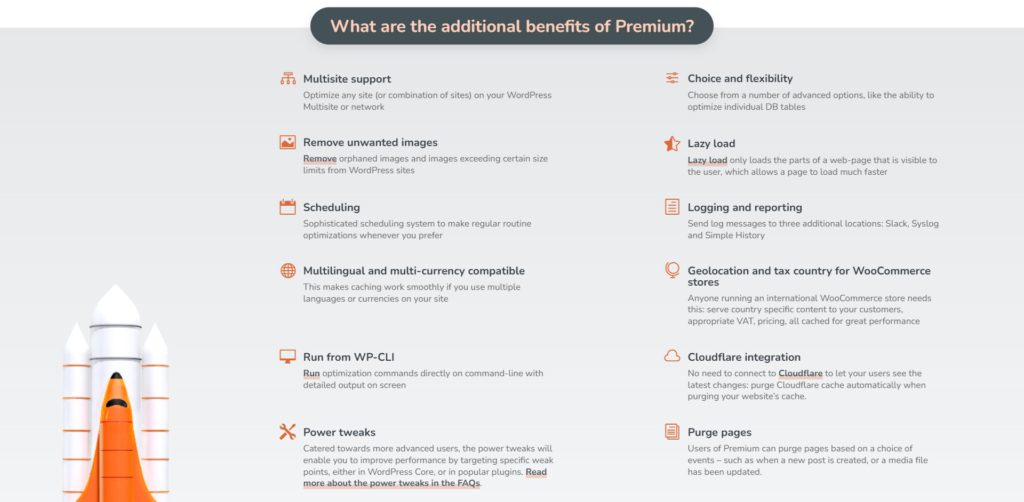 Wp Optimize is a plugin alternative to free cache plugins, and also a strong competitor for paid WordPress performance and cache plugins.
On the free version, Wp Optimize offers unique features that directly improve the Pagespeed such as loading css asynchronously and better Google fonts/Font Awesome loading, alongside so popular as CSS/JS minification, combination, and others.
It also offers Mobile-specific cache, Database Optimization, and Image Optimization which are features most seen on paid cache/performance plugins, on the free version.
Wp Optimize Premium features
The main features of Wp Optimize premium are lazy loading and image compressing. Another feature labeled as premium of Wp Optimize is "Preload key requests", which allows the preload of any asset. The remaining features of Wp optimize premium are as follows:
Multisite support
Preload key requests
Optimize individual tables
Optimization Scheduling
Enhanced logging and reporting
Multilingual and multi-currency compatible caching
Geolocation and tax country for WooCommerce stores
Cloudflare support
Autoptimize
Autoptimize is the closest to a free version of Wp Rocket, apart from Wp Optimize. Offers a range of optimization features, both basic and advanced:
HTML/CSS/JS minification & compression
Cache
Lazyload
Preload and preconnect
Get your WordPress Core Web Vitals Optimized!