Nitropack Wordpress solution offers integrated CDN and an all-in-one plugin for increasing or improving Pagespeed and Core Web Vitals.
We take a depth look at Nitropack features and summarize some of its initial setup, including all the Nitropack optimization levels.
How does Nitropack work
To use Nitropack, you need to create an account and choose a plan. NItropack will check if your website is registered. Download and install the plugin. Please notice that some hosting may need additional cache configuration and integration, including Cloudways or Kinsta, read more on Nitropack documentation.
If your website has Cloudflare, reverse-proxy, or Sucuri you can integrate it on the integration tab on Nitropack.
Nitropack optimization levels settings and features
NItropack offers 5 optimization levels, one of them which is manual, allowing you to set up manually all of the Nitropack options. Consider backup-ing and setting up a staging website for testing Nitropack.
Remove any plugins with overlapping features, such as lazy load or cache, to avoid issues. Also, check for incompatible plugins.
The pricing (1 year) on each product would be as follows:
Nitropack 50.000 pageviews/mo limit(25GB max bandwidth): $199/year*
Nitropack 200.000 pageviews/mo limit(100GB max bandwidth): $485/year*
Nitropack 1.000.000 pageviews/mo limit(500GB max bandwidth): $1672/year*
5% OFF Nitropack Coupon: WPALPHA
| | |
| --- | --- |
| Functionality | Nitropack |
| Tools to improve Core Web Vitals LCP | ✔️ |
| Tools to improve Core Web Vitals CLS | – |
| Delay Javascript until user-interaction | ✔️ |
| CDN | ✔️ |
| Critical CSS | ✔️ |
| Cloudflare integration | ✔️ |
| Cloudflare APO integration | – |
| Database Optimization | (Advanced Database Cleaner) |
| Lazyload + Image Optimization + WebP | ✔️ |
| HTML/CSS/JS minification & compression | ✔️ |
| DNS prefetching, preloading | ✔️ |
| Remove unused CSS | ✔️ |
The incorrect use of Nitropack may lead to worse LCP and CLS metrics. It also may lead to SEO changes, as delaying the Javascript of a slider plugin or any other can hide the HTML content from Google's crawl bot. Failing on mobile-friendly tests is also a possibility when delaying Javascript incorrectly.
Nitropack ranks above other Wordpress cache plugins in mobile and desktop Core Web Vitals field data on the Core Web Vitals Technology Report.
Core Web Vitals and Pagespeed
Google's Pagespeed doesn't check or have a user-interaction feature to give your website a real user testing experience, and because of that, you must ensure you're passing Core Web Vitals field data. Having good lab data with Nitropack while using any of their Javascript optimizations, doesn't guarantee a good score. You must also certify you're passing with field data.
From Google data, Nitropack ranks slightly above Wp Rocket. Nitropack also does have a better Pagespeed(Lighthouse) score than other speed optimization plugins. Nitropack ranks below Wp Rocket on CLS(Cumulative Layout Shift) for mobile, even as Nitropack has a built-in CDN. While choosing an option for improving your Core Web Vitals, have in mind that Nitropack may lack features to improve CLS.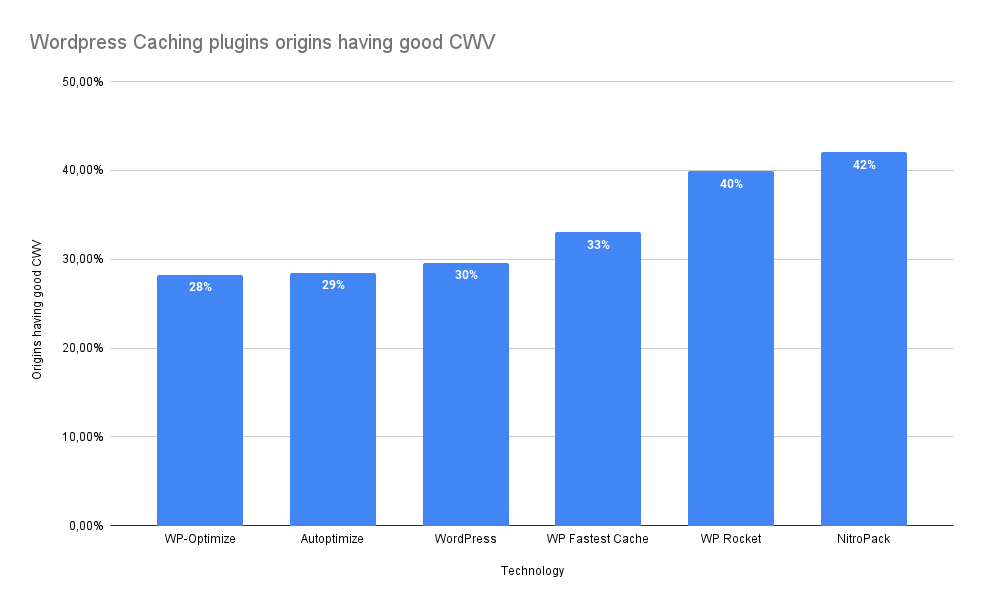 Nitropack vs Cloudflare
Nitropack and Cloudflare are products with different use cases. Cloudflare offers products such as Cloudflare APO, priced at $5/month, and it optimizes your TTFB and FCP metrics.
As for Nitropack compatibility with Cloudflare, Nitropack offers built-in integration with Cloudflare proxy CDN. Nitropack checks if your site is using Cloudflare, and prompts you to the integration config setup.
Get your WordPress Core Web Vitals optimized and your pages faster!