Elementor is currently one of the preferred choices for building websites without writing code. But what is the real cost of building upon Elementor when weighing speed, and performance?
Elementor recently added features to improve speed, but as the Core Web Vitals update takes place, a new challenge appears. Can a website have green metrics while still using Elementor?
A short answer is yes and "It depends on the website traffic".
The cost of using Elementor
Elementor works on a fundamental level by loading a lot of Javascript to make its functions work. Javascript is the biggest offender for page loading.
Elementor loads a median of at least 600 kB of Javascript files as of May 2023*. Elementor also loads a large number of CSS, many of which are render-blocking, causing the site to slow down in loading.
Caching can alleviate some of these issues, but as INP becomes a Core Web Vitals metric in 2024, any extra Javascript can make the website fail the assessment.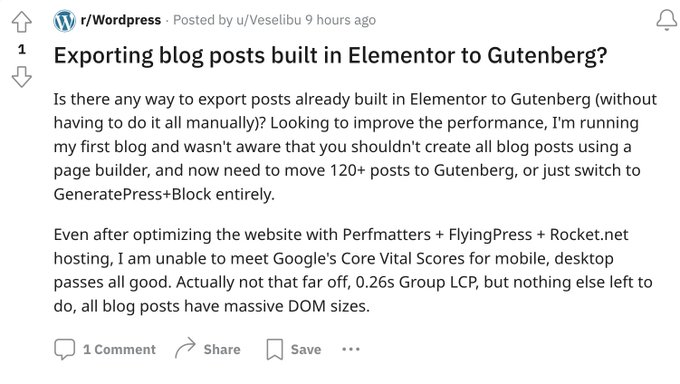 Elementor isn't a product focused on performance. Highly–requested performance features are released after 5 years, and yet are fully compatible.
Elementor has been releasing performance features such as "Improve DOM" and "fecthpriority for LCP", but it is still far away from having the same performance as some competitors.
Elementor vs Alternatives: Speed Comparison
Using data from Google, we can estimate Elementor performance stats. It currently has a worse loading time than GenerateBlocks, Breakdance, and Kadence Blocks.
Breakdance is the closest in functionality parity compared to Elementor. GenerateBlocks and Kadence Blocks are closing the gap but still don't offer as many features as Elementor.
Optimizing Elementor speed
Wpalpha can optimize your Elementor website. If you're keen to do it yourself, consider the following solutions for solving or improving Elementor loading: