Do you think Wordpress is slow and want a better or a free alternative? If so, you're not alone. A slow website, especially on mobile, will impact negatively all other metrics, including engagement, conversion, and others.
Wordpress currently has lower Core Web Vitals metrics compared with its alternatives. Core Web Vitals is now a standard for Google in terms of page experience and speed(perceived load) with the LCP(largest contentful paint) metric.
As Wordpress is an open-source CMS, it may be hard to compete with private apps that have robust technology on all of their pages. Nonetheless, there are faster Wordpress alternatives.
If you're looking for a website builder solution including hosting, or a content management system (CMS), take a look at the following list of faster Wordpress alternatives in Core Web Vitals terms.
Fastest WordPress Alternatives Rank
For this rank, we used data from Google Core Web vitals filtered by mobile. The rank is as follows:
Core Web Vitals is now a standard for Google regarding page experience. It applies to visual stability, loading, and interactivity experience. Alongside other metrics, they form what Google calls Search Signals for Page Experience, which is used as a search ranking algorithm.
Choosing technologies with great Core Web Vitals metrics will make your website have better results in SEO.
And the Core Web Vitals doesn't only apply direct to the SEO but rather a lot of metrics. Speed – represented by the LCP metric – can have a direct impact on the cost of running a website, due to how slow-loading websites may consume more server resources/require more bandwidth, leading to higher hosting costs.
Slow websites can also lead to increased costs for customer support, as customers may be more likely to contact support if they are experiencing issues with a slow-loading website.
Ghost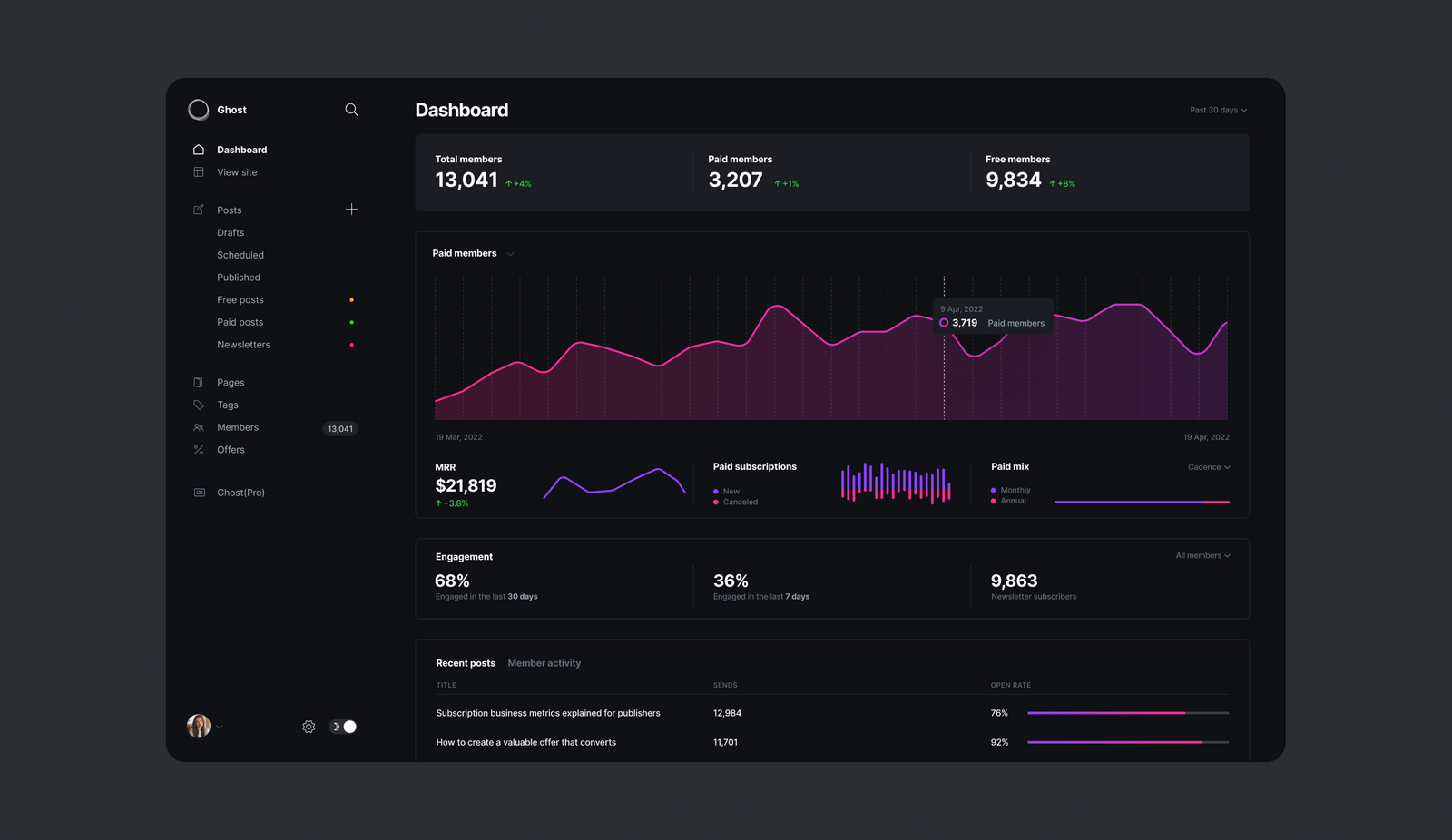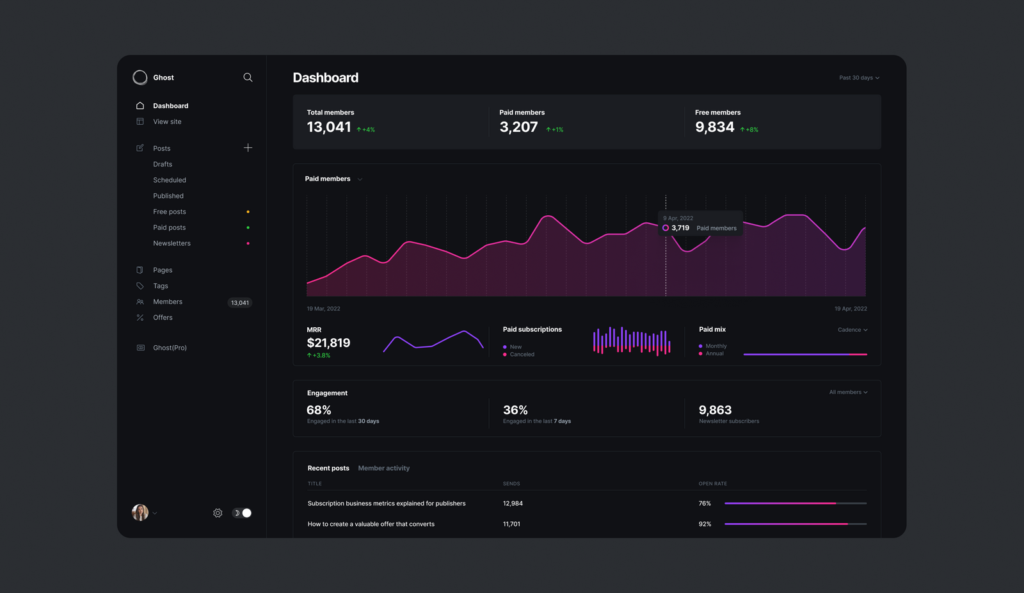 Open source alternative to Wordpress that can be installed on a Ubuntu server to self-host.
Ghost Pro offers creator plans including memberships, subscriptions, and newsletters. Takes 0% fees on these services, as it uses Stripe. Ghost Pro also has native SEO, CDN, domain, and free SSL.
One of the powerful ways to leverage Ghost and kept the Wordpress experience is deploying your site with Netlify. You can use Ghost custom integration to achieve it. This integration trigger rebuilds of your site any time content is updated using webhooks.
Current plans are based on audience, with the following pricing(1 year-plans):
Ghost self-hosted: Free
500/members audience, 1/staff, 1/newsletter, 1/membership: $108/year
1000/members audience, 2/staff, 3/newsletter, 5/membership: $300/year
1000/members audience, 5/staff, 10/newsletter, unlimited/membership: $600/year
10k/members audience, unlimited/staff, unlim./newsletter, unlim./membership: $2388/year
Webflow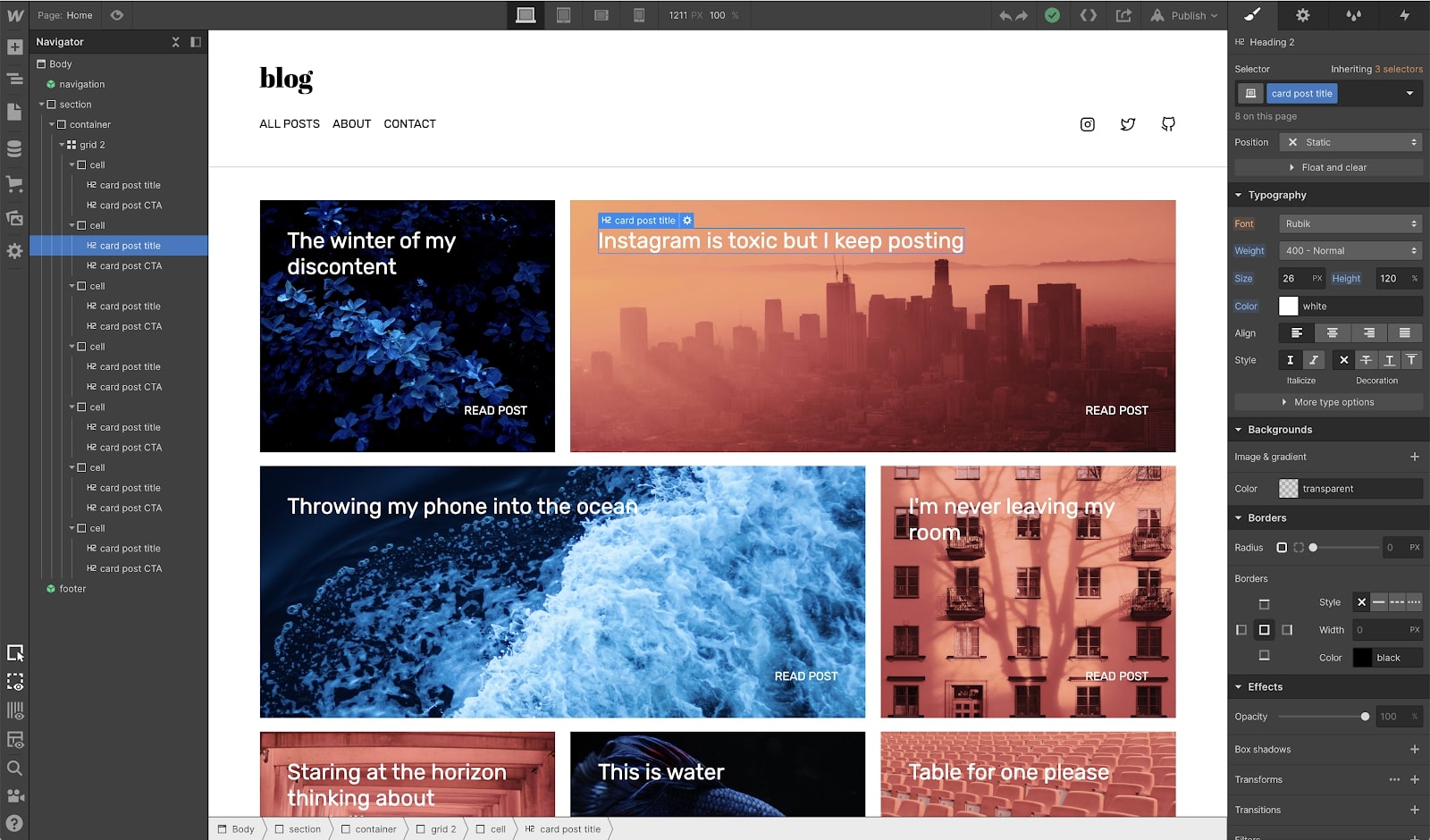 Webflow is a CMS and website builder alternative to Wordpress that allows you to build websites without coding. It offers a free plan for starting up your project on the platform until you launch it as a custom domain. Webflow also has Workspace plans featuring team options.
Yearly pricing:
1 site, 1GB/mo bandwidth, webflow.io domain: Free
1 site, 50GB/mo bandwidth, domain, no database: $144/year
1 site, 200GB/mo bandwidth, domain, 2k items/database, 3 editors: $192/year
1 site, 400GB/mo bandwidth, domain, 1k items/database, 10 editors: $432/year
You can self-host your Webflow website by exporting it, and uploading your files to your server. Flowty offers low-carbon and optimized Webflow sites, for $5/month.
Duda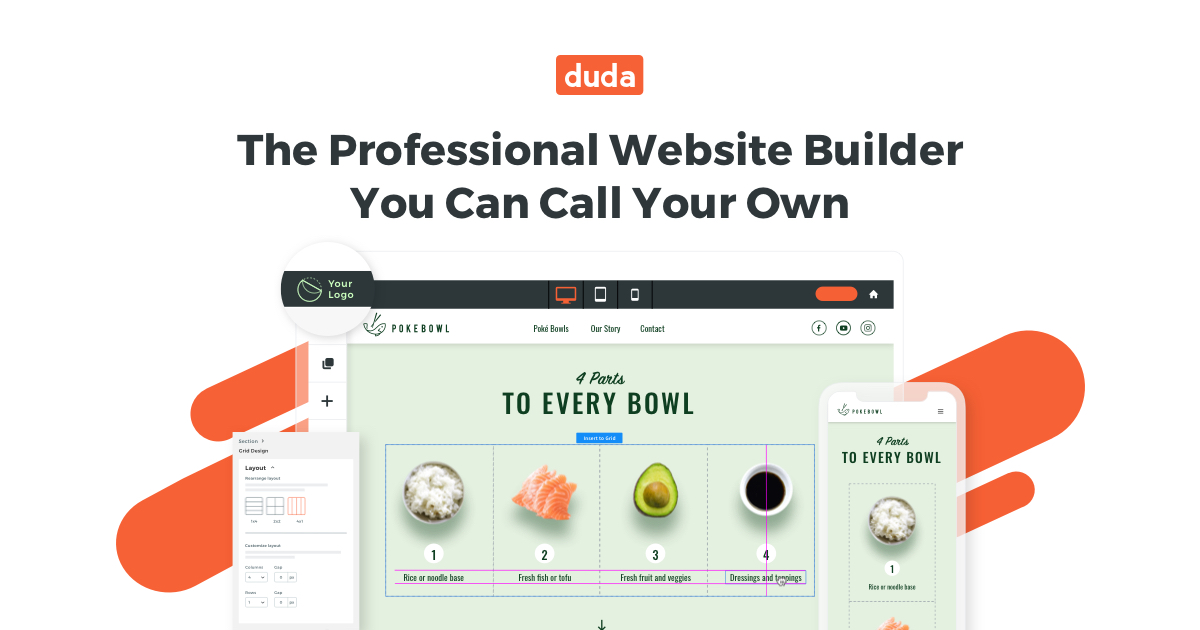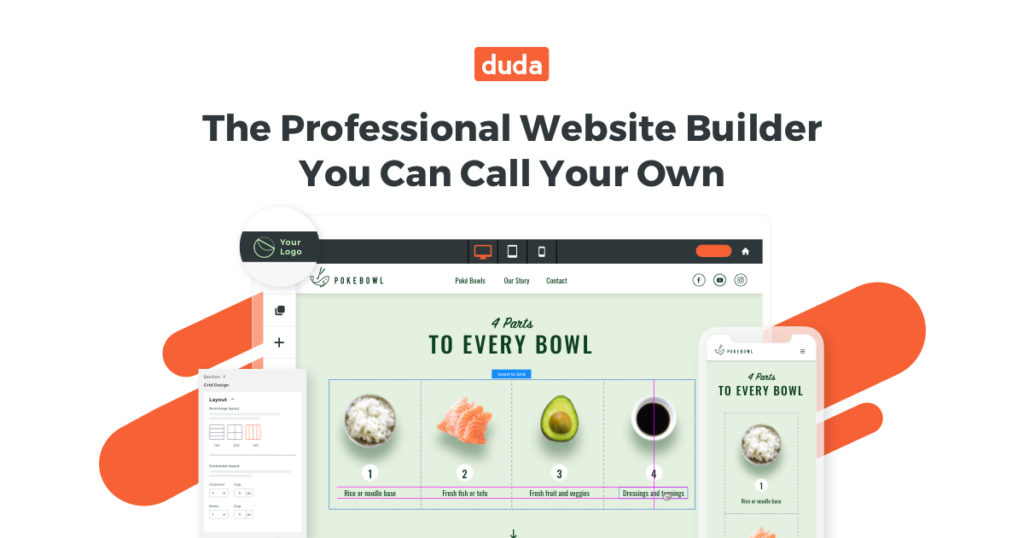 Duda is a website builder featuring team collaboration and client management. It can be used as a Woocommerce alternative. Duda offers websites with ready functions such as HTTPS Encryption, hosting, multi-language, and membership. 
Pricing (1-year plans)
1 site + limited library: $168/year
1 site + unlimited library + 4 team collab + client manag./feedback: $264/year
4 sites + unlimited library + 10 team collab + client manag./feedback + email domain + full site export: $396/year
Gatsby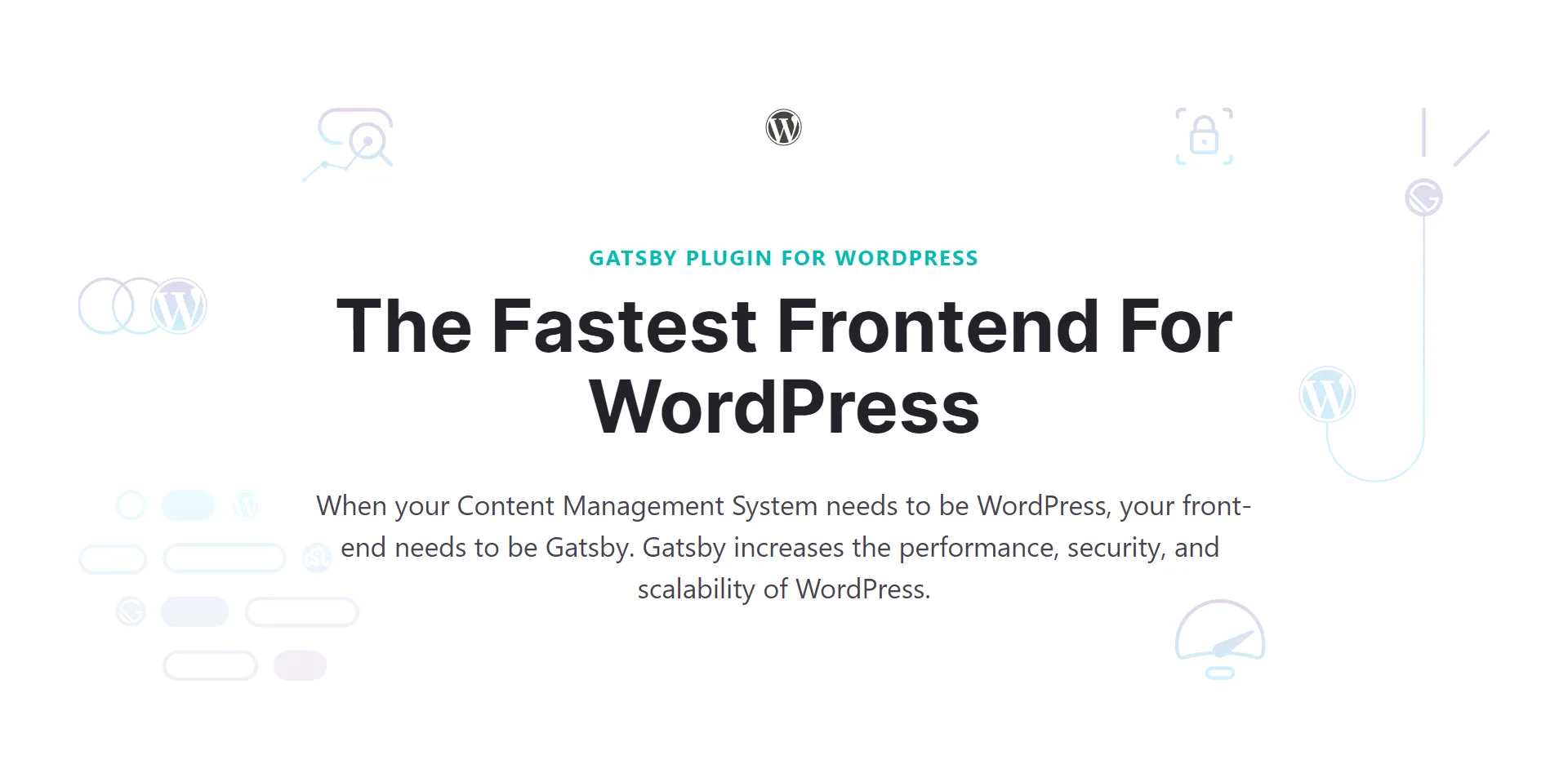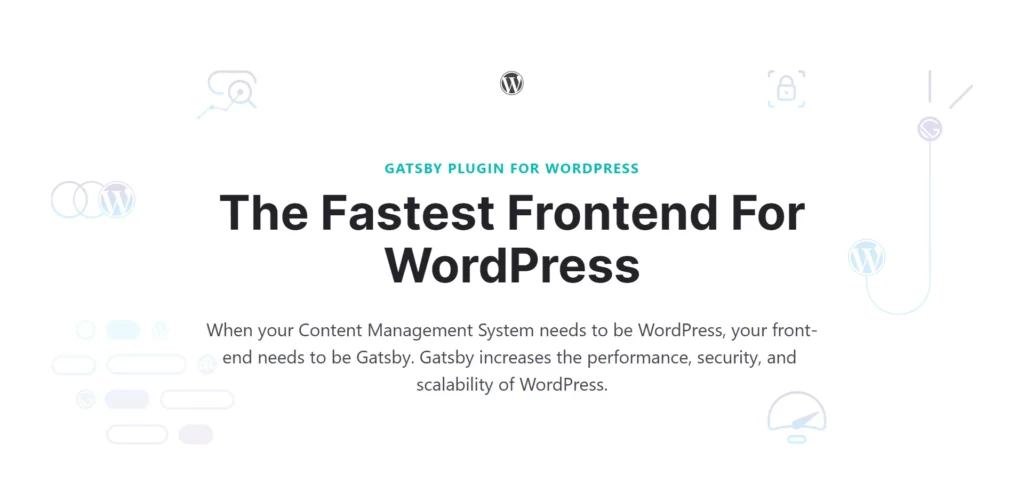 Gatsby is a headless frontend that can be used as a blog. The Gatsby Blog plugin allows you to build a blog with all major features, including RSS, automatic optimization of images, and SEO features. All done in the React framework, which Gatsby is based on.
Gatsby also offers a Gatsby Wordpress plugin solution that allows keeping using WordPress as the CMS, but with increased security and performance due to the static rendering of Gatsby.
Squarespace
Squarespace is a novice-friendly platform that may require little to no learning to use all of its features.
Squarespace offers a selection of starter templates that will help you kickstart your project. You can use Squarespace to sell, as a Woocommerce alternative.
To build a website you use their block-based builder with drag-n-drop functionality. When building you have a free staging website to test and review any changes, before applying to the live website.
Squarespace ranks in the top 3 with the best TTFB amongst other platforms.
Yearly pricing:
1 site, unlimited/bandwidth, domain, 2/members: $168/year
1 site ecommerce, unlimited/bandwidth, domain, unlimited/members, custom email: $276/year+ 3% each sell
1 site ecomm, unlimited/bandwidth, domain, unlimited/members, custom email, POS app: $324/year+ 0% each sell
1 site ecomm, unlimited/bandwidth, domain, unlimited/members, custom email, POS app, advanced e-commerce options: $588/year+ 0% each sell