Breakdance is a new page builder from the creators of page builder Oxygen. One of the main differences from its other product is the easiness of learning and using Breakdance compared to Oxygen.
With an approach to having a more user-friendly experience while visually building a website, it can be an Elementor alternative.
One of the demands from Breakdance users was that it was not ready to use on production websites, as it lacked the features needed to launch a website. For this demand, Breakdance has been developing features, and its recent release includes:
Woocommerce Custom Product Loops
Woocommerce Conditions; Stock Status, Stock Quantity, On Sale, etc.
Advanced Accordion Element
Tooltip
Native SVG
Breakdance vs Elementor
Breakdance does what most page builders allow, quickly building a page visually. But it has the advantage of generating a leaner page, that will load faster than others. With Speed and Core Web Vitals as an algorithm, it's necessary to have a fast-performing website to rank high in SERP positions.
Pricing, 1-year support:
Breakdance: $149 unlimited sites
Elementor: Starts at $59 for 1 site to $399 for 1.000 sites.
Woocommerce
One of the main features of Breakdance is its support for Woocommerce. It comes with 26 Woocommerce widgets, including customizing the cart page, account page, and mini cart. Full list:
Products list
Product
Product Builder
Related Products
Upsell Products
Shop, Cart, Checkout & Account page
Order Tracking Page
Mini Cart
Shopping Filters
Woo Widgets and Woo Breadcrumbs (Woocommerce system)
Form Builder
Breakdance offers a form builder with built-in integrations with all major marketing, including MailChimp, ActiveCampaign, and Convertikit. It also comes with honeypot anti-spam and optional ReCaptcha integration.
The form builder has conditional fields and 14 different field types. You can manage the form submissions directly from the WordPress admin interface.
Addons
Breakdance was launched in 2022, its addon ecosystem is still not as large as its competitors.
But it already has an addon that will style up your Breakdance website with a unique design. Elements Hive offers 13+ free elements, including:
WebGL Kinetic Typography: create your own interactive 3D backgrounds.
Magnetic Mouse Cursor: Turns the mouse cursor into a magnet that automatically wraps around links, buttons, or any element which you specify using an ID or class selector.
Link Media Reveal: reveal an image or video when hovering on a link using buttery smooth animations
WebGL Fluid Simulation Background: add a WebGL Fluid Simulation with many customization options.
Breakdance Alternatives
While Breakdance is still starting, you may choose other page builders or block editor plugins. Take a look at the performance-oriented plugins list below.
Bricks & Bricksable plugin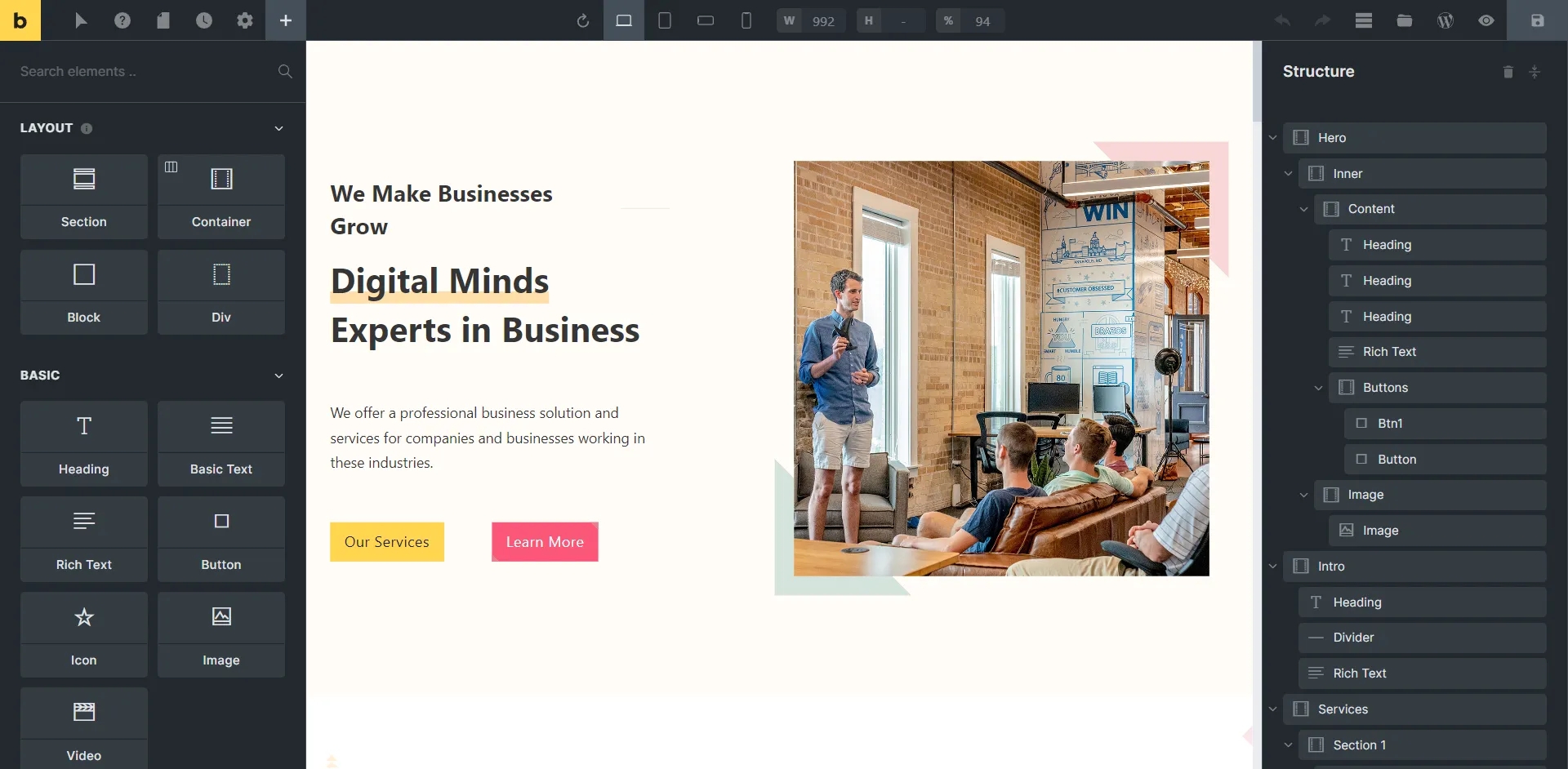 Bricks is a page builder with performance in its main features. It creates website pages with full customization yet with a good loading speed. Bricks is Gutenberg compatible. Try it here.
Bricks is available at $99/year for 1 site or $249/year for unlimited sites.
Bricksable is a free plugin that offers 10 elements for the Bricks page builder.
Generateblocks
GenerateBlocks Free is a WordPress block editor with 4 features on it. These 4 blocks (container, grid block, headline block, button) are meant to build your WordPress site with flexibility without having a single block for each thing.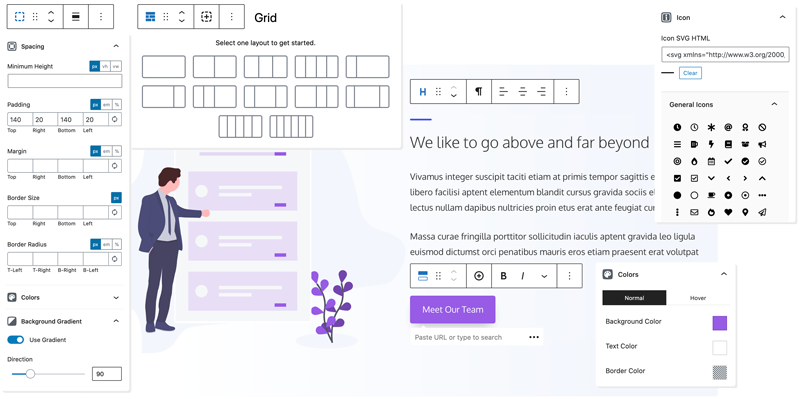 GenerateBlocks offers a Pro plugin that has over 200 pattern templates to speed up your building process. GenerateBlocks Pro starts at $39/year.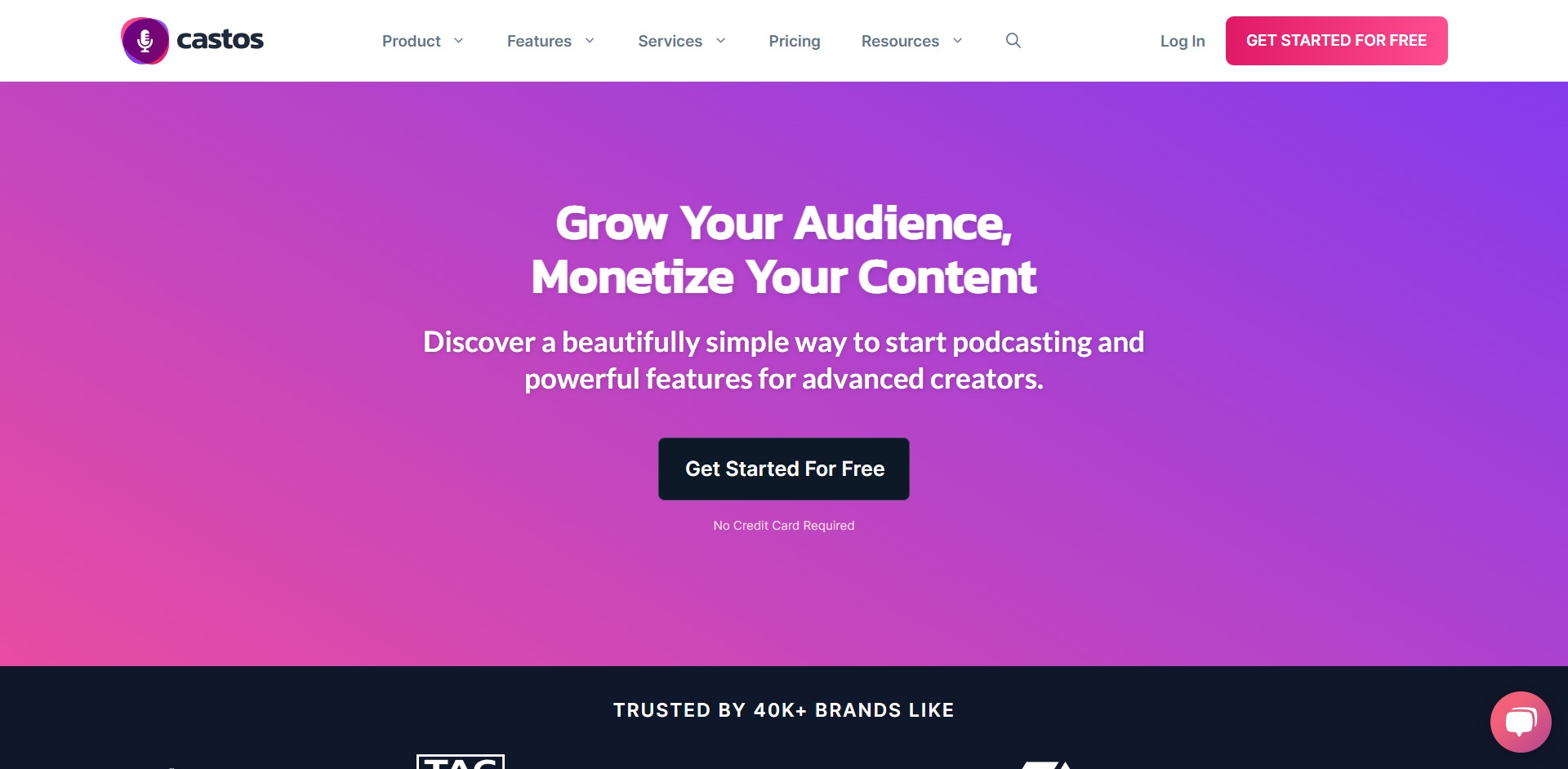 Gutenberg
Gutenberg is WordPress's "block editor". Edit individual content blocks on posts or pages. Add and adjust widgets. Design your site headers and footers. Re-use blocks.
Gutenberg allows full customizing of Woocommerce single-product page layouts, shop pages, category pages, and Woocommerce tag pages.