Breakdance is a new page builder from the creators of page builder Oxygen. Breakdance is built to be fast as the founders say. When comparing a site performance test between both, Breakdance has way better results.
Elementor has speed as one of its issues. Most websites using Elementor have bad Core Web Vitals LCP, which is now a standard for website speed.
Take a look below for a full breakdown of Elementor vs Breakdance.
Elementor made recent efforts to better suit its clients regarding performance including experimental optimization features and offering static website hosting from its company Strattic, which offers static Elementor support.
For non-developers, optimizing Elementor can be hard, but with a few actions, you can optimize Elementor to rank higher in Pagespeed.
One notable difference between Breakdance and Elementor might be the fact that both have lots of built-in ecommerce blocks but Breakdance ecommerce blocks offer a more granular customizing of elements without the need for other 3rd-party plugins, as seen in this video.
Elementor vs Breakdance: Ecommerce
One of the main features of Breakdance is its support for Woocommerce. It comes with +35 Woocommerce widgets, including customizing the cart page, account page, and mini cart.
Full list:
Products list
Product
Product Builder
Related Products
Upsell Products
Shop, Cart, Checkout & Account page
Order Tracking Page
Mini Cart
Shopping Filters
Woo Widgets and Woo Breadcrumbs (Woocommerce system)
Elementor vs Breakdance: Plugins
Elementor has one of the largest 3rd-party plugin ecosystems. For Breakdance it's still coming alongside. Breakdance was launched in 2022, but its addon ecosystem is still not as large as its competitors. Check all 4 Breakdance addons.
But it already has an addon that will style up your Breakdance website with a unique design. Elements Hive offers 13+ free elements, including:
WebGL Kinetic Typography: create your own interactive 3D backgrounds.
Magnetic Mouse Cursor: Turns the mouse cursor into a magnet that automatically wraps around links, buttons, or any element that you specify using an ID or class selector.
Link Media Reveal: reveal an image or video when hovering on a link using buttery smooth animations
WebGL Fluid Simulation Background: add a WebGL Fluid Simulation with many customization options.
Elementor vs Breakdance vs Bricks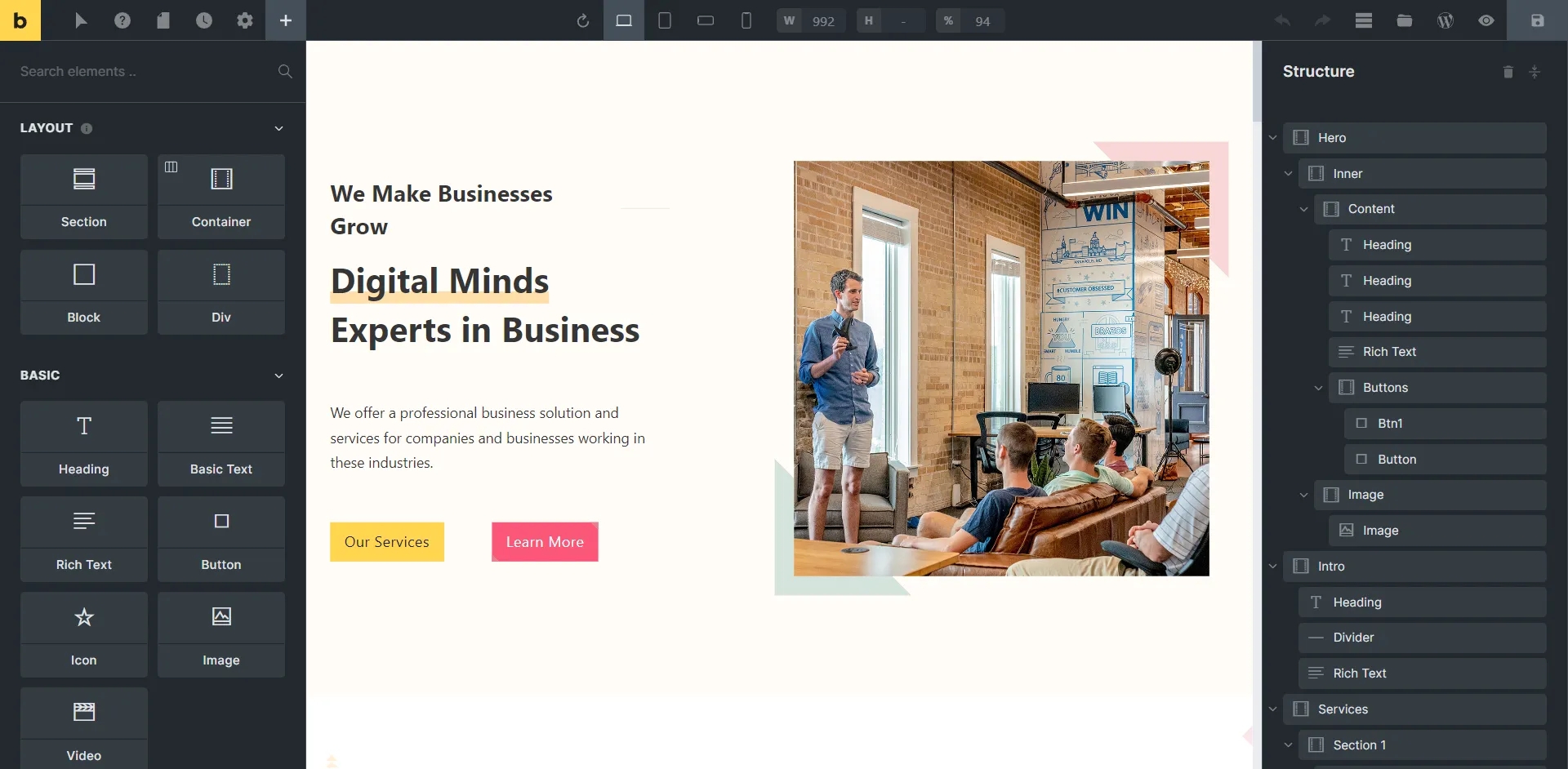 Bricks is a page builder with performance in its main features. It creates website pages with full customization yet with a good loading speed. Bricks is Gutenberg compatible. Try it here.
Bricks is available at $99/year for 1 site or $249/year for unlimited sites.
Bricksable is a free plugin that offers 10 elements for the Bricks page builder.