Shopify Speed Optimization apps/services label themselves as speed boosters, but are they improving your website speed?
The Shopify app store has many apps that claim to improve your page speed, even with just one click away. Can your website be improved with just one click, or simply a few buttons?
Shopify Speed Optimization App Tests Results
We analyzed the top 3 most used Shopify performance app and their services. We also used Google data to compare them all and see how they perform compared to Shopify's baseline data. Here are the results.
App 1
The most popular speed* optimization Shopify app.
The app removed banner images with pagespeed scores upgrades but still uses page speed optimizer terminology. It's labeled as a speed app but doesn't have a speed feature, but rather a user experience, which preloads links to make the next navigation faster. No lab data tests are necessary.
Using Google field data shows that it performs worse than Shopify baseline stores. It performs better than app 2 and app 3.
App 2
The second most popular* speed optimization Shopify app. It creates a new theme with the features enabled.
With 2 options enabled that are offered in the trial Pro plan, the lab data results are the same as the Shopify default store.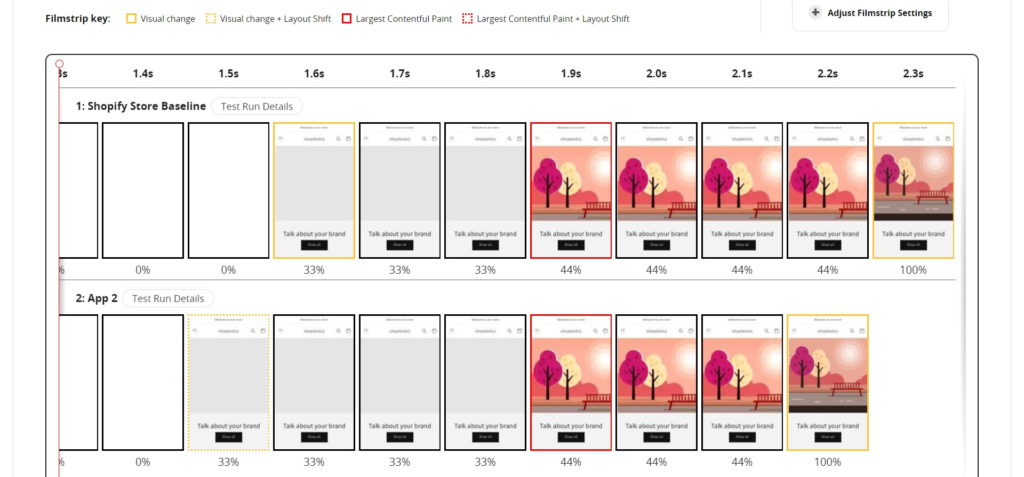 Using Google field data shows that it performs worse than Shopify baseline stores. It performs worse than app 1 and better than app 3.
App 3
The third most popular* speed optimization Shopify app. Most expensive.
In lab data, it does improve the LCP. It does this by creating a white background LQIP placeholder. Call it a trick, as LQIP is supposed to be the color and at least resembles the original image, but it doesn't do that.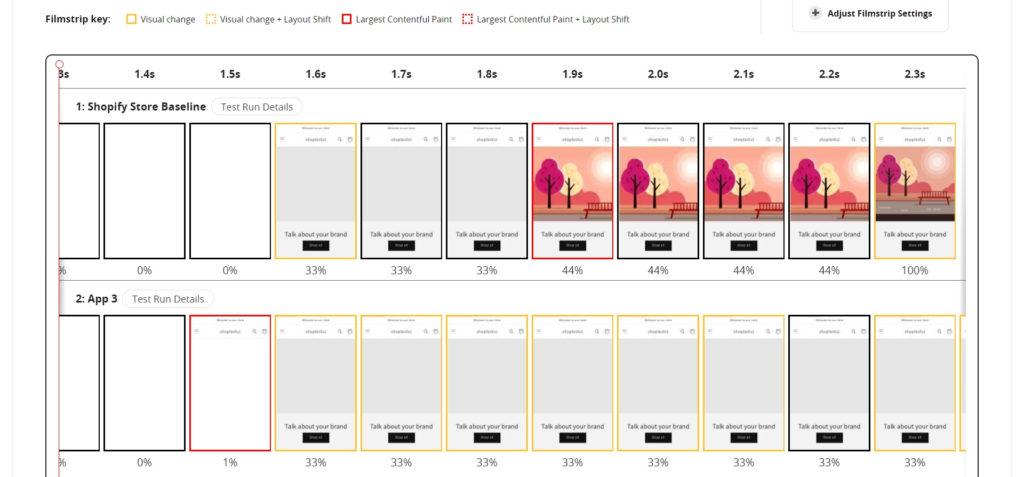 In lab data, it loads 100% of the website way slower than the Shopify store baseline.
Using Google field data shows that it performs worse than Shopify baseline stores. It performs worse than app 1 and app 3.
Summary
All of the 3 listed Shopify speed optimization apps, fall behind Shopify baseline Core Web Vitals. The one app that does have better LCP lab data(most expensive) for our tests, does it by creating a blank white LQIP background, which may not contribute to the user experience, and rather degrade it.
Shopify Speed Optimization Services
Shopify speed services also offer pagespeed optimization, which is just lighthouse navigation mode optimization, differing a lot from Core Web Vitals optimization.
If you're pursuing a legitimate Shopify Core Web Vitals Optimization service, check their case studies projects Core Web Vitals history. That way you confirm they are real.
Shopify Case Studies
Mifire.com.au was paying for a Shopify speed optimization app for months and never passed the Core Web Vitals.
We removed the speed app and after applying our optimizations, the site improved LCP and CLS to pass the metrics.
How do I optimize my Shopify speed?
According to Google data, Shopify baseline without speed plugins, has better metrics and Pagespeed scores, on either small, medium, or large business stores.
Shopify has a dedicated performance team that elaborates on ways to improve the speed of Shopify stores. They use the same Google data as this analysis to make performance decisions at scale.
Some of the features from Shopify speed apps may also have intended effects and cause Core Web Vitals CLS issues, which may not shown on Pagespeed(Lighthouse navigation mode).
The API of Shopify may be very complex, and therefore any optimization may need a Shopify Expert to apply patterns or code that cover all of the store.
Improve your Shopify by checking on what apps you use and removing/changing ones that are having a big impact on the site's performance.
*Available on CWVT report.