Nitropack and Wp Rocket are plugins aiming at Wordpress Pagespeed and Core Web Vitals Optimization. What is the best solution for improving your Wordpress website speed and who has the best price?
Nitropack's main difference from Wp Rocket might be its CDN solution, but as Wp Rocket continues to launch new Core Web Vitals features, it can be a Nitropack alternative. You can also use Bunny CDN plus Wp Rocket to have full Nitropack features parity.
Features and Price Comparison
The main difference between Nitropack and Wp Rocket is that Nitropack offers a built-in CDN feature, that stores all your assets on a CDN(Content Delivery Network).
Nitropack has an interface with "optimization levels" allowing you to perform 5 different optimization sets within a single button. From a TOC(total cost of ownership) perspective, these features reduce development costs while offloading work from optimizing and configuring the website speed.
Those pre-configured sets are based on trial and error testing by Nitropack. They are defined by how much Nitropack optimizes the website, which may include delaying all javascript, how it loads fonts and other optimizations.
Aggressive optimization levels may not be compatible with your website as they may change your layout/functionalities. If you want to go with them you need advanced testing, you can hire us for this.
The yearly pricing on both products are:
Nitropack 50.000 pageviews/mo limit(25GB max bandwidth): $199
Wp Rocket 1 site $59 + $100 Imagify + CDN: $159 plus CDN price
Nitropack 200.000 pageviews/mo limit(100GB max bandwidth): $485
Nitropack 1.000.000 pageviews/mo limit(500GB max bandwidth): $1672
*Exclusive 5% Nitropack discount for Wpalpha readers.
| | | |
| --- | --- | --- |
| Functionality | Wp Rocket | Nitropack |
| Tools to improve Core Web Vitals LCP | ✔️ | ✔️ |
| Tools to improve Core Web Vitals CLS | Critical CSS and Remove Unused CSS filters | Critical CSS and Remove Unused CSS filters |
| Delay Javascript until user-interaction | ✔️ | ✔️ |
| CDN | ❌ (Use Bunny CDN) | ✔️ |
| Critical CSS | ✔️ | ✔️ |
| Cloudflare integration | ✔️ | ✔️ |
| Cloudflare APO integration | – | – |
| Database Optimization | ✔️ | (Use Advanced Database Cleaner) |
| Lazyload + Image Optimization + WebP | (Use Imagify $10/mo) | ✔️ |
| HTML/CSS/JS minification & compression | ✔️ | ✔️ |
| Preconnect, preloading | ✔️ | ✔️ |
| Remove unused CSS | ✔️ | ✔️ |
Core Web Vitals and Pagespeed
Google's Pagespeed doesn't check or have a user-interaction feature to give your website a real user testing experience, and because of that, you must ensure you're passing Core Web Vitals field data. Having good lab data with Nitropack while using any of their Javascript optimizations, doesn't guarantee a good score. You must also certify you're passing with field data.
The same applies to Wp Rocket, due to it now delaying all Javascript but not internal javascript files/Jquery/inline scripts.
From Google data, Nitropack ranks slightly above Wp Rocket. Nitropack also does have a better Pagespeed(Lighthouse) score than other speed optimization plugins. Nitropack ranks below Wp Rocket on CLS(Cumulative Layout Shift) for mobile, even as Nitropack has a built-in CDN. While choosing an option for improving your Core Web Vitals, have in mind that Nitropack may lack features to improve CLS.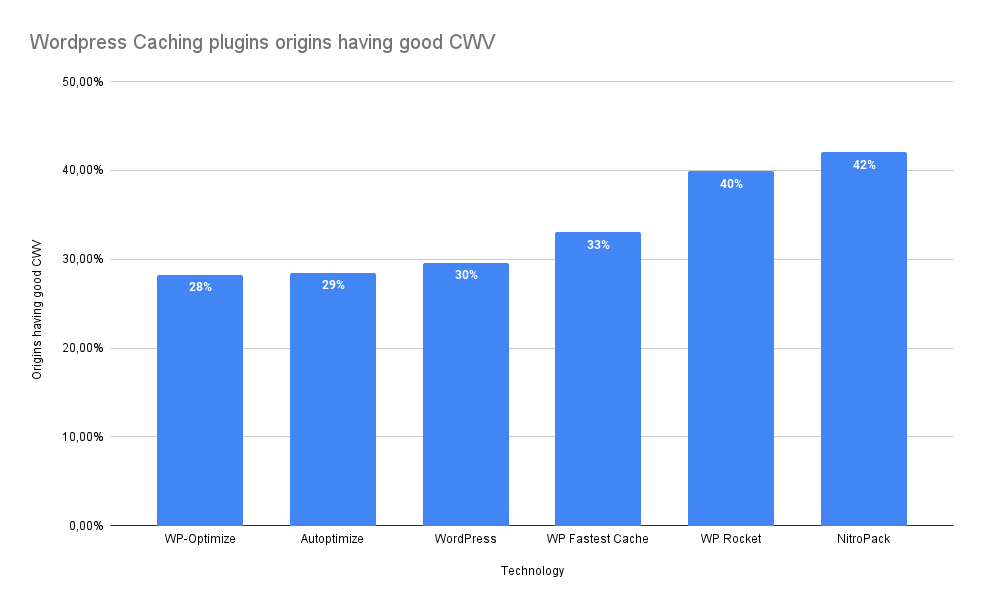 Nitropack
Nitropack is a CDN + Cache/Performance plugin solution, also described as an all-in-one speed optimization solution. It stores your entire website assets on the cloud to improve all areas of Pagespeed. It has a built-in "script manager", which delays Javascript based on the selected optimization level.
Nitropack stores your entire assets on the CDN, and it can speed up even the worst of websites, with the power of its script manager, it can offer the highest Pagespeed scores possible. But that comes with a prize, Nitropack may lower your CLS and LCP if you misuse it.
Wp Rocket
Wp Rocket is an open-source developed plugin. You can use Bunny as CDN to use with WpRocket, pricing varies charged per/GB used. Use a CDN to speed up all your assets, similar to Nitropack.
Wp Rocket has robust technical documentation, detailing each of its features with a page including examples, and in some features, it adds issues debugging, with a guide on how to solve the issues. Alongside its strong and immense development community, covering the most edge cases from regular users.
For example, WP Rocket has already solved 73 Elementor-related issues and counting, improving compatibility with other plugins.
Get your WordPress Unused CSS Core Web Vitals Optimized!