Building from Adobe XD or Figma to WordPress can be tricky. A good approach to picking your tech stack is to think long-term, considering the Total Cost of Ownership(TCO), especially if you're building an e-commerce business.
In this list, we feature the 3 best ways to convert from design tools Adobe XD and Figma to WordPress, each with its approximate development cost, page load time, and maintenance cost.
Elementor + Hello theme (or any theme builder + starter theme)
Pricing: starting at $49/year
Development costs: build it yourself, or hire a developer starting at $20 hourly/developer.
Load time: Slow
Maintenance: Easy
Highlighted Examples: affiliates.fiverr.com || www.plesk.com ||www.meliuz.com.br/blog
Elementor lets you quickly build an Adobe XD/Figma design in WordPress, no matter what your skills with web development. But, as highlighted in our article What should I know before using adobe xd to wordpress elementor, it has some limitations.
Consider using our reflink to buy Elementor Pro
Even with its limitation, Elementor is being used by industry leaders as part of their stack. It lets your marketing team have full control of the content and even style layout tough elementor global theming settings, with no hassle. Finding an Elementor developer to build your design is also easy and straight.
The cost associated with speed optimization may be one of Elementor's downsides. As Elementor is a simple drag-in-drop tool, the maintenance cost would be near zero, you could do any changes without assistance from the developer.
Elementor Cloud
Elementor Cloud offers an integrated platform to build and manage multiple websites, with the well-known Elementor website builder plugin.
It comes with hosting(hosted on Google Cloud Platform), CDN By Cloudflare, Custom Domain Connection, Free SSL Certificate, and Elementor Pro. Pricing starts at $99/year
GeneratePress + GenerateBlocks (or any FSE theme + block editor plugin)
Pricing: Free or starting at $59/year
Development costs: Free(build yourself), or hire a developer starting at $20/hourly.
Load time: Fast
Maintenance: Medium
Highlighted Examples: http://iheartcats.com/ || barcelona.intercontinental.com ||serversmtp.com
GeneratePress is a well-known theme of WordPress. Using the combination of GeneratePress Premium and the premium GenerateBlocks plugin, the possibilities for layout and styling are infinite.
Full site editing (or FSE for short is WordPress themes with features with blocks for all parts of a website, including the header/footer and not only the content parts.
GeneratePress Premium also offers a library with a bunch of templates to kickstart your website layout. GP offers the following pricing options:
GeneratePress theme: Free
GeneratePress premium up to 500 websites(1y support): 59$/year
GeneratePress premium up to 500 websites(lifetime support): $249
GeneratePress features
Theme Builder; using GeneratePress Premium and GenerateBlocks plugin(free), you can visually build every aspect of your website
Site Library;
Woocommerce options
Hooks system, and many more.
GenerateBlocks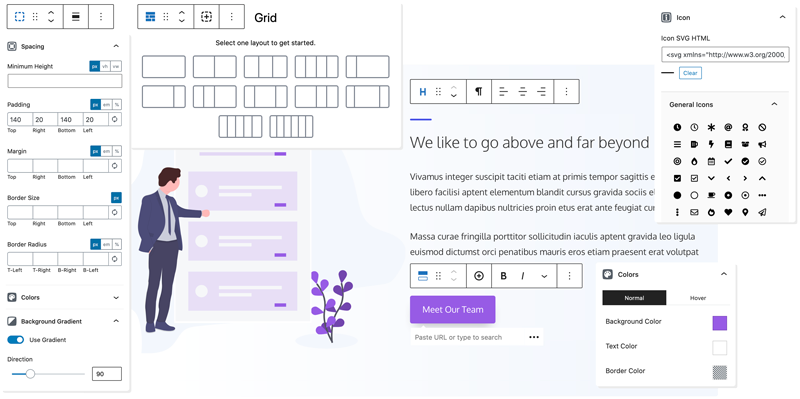 GenerateBlocks Free is a WordPress block editor with 4 features on it. These 4 blocks (container, grid block, headline block, button) are meant to build your WordPress site with flexibility without the need to have a single block for each thing.
The GenerateBlocks Pro plugin has over 150 templates to speed up your building process. GenerateBlocks is offered free and at $39/year.
Consider our reflink to buy Generateblock Pro
Sage theme (or any Starter theme)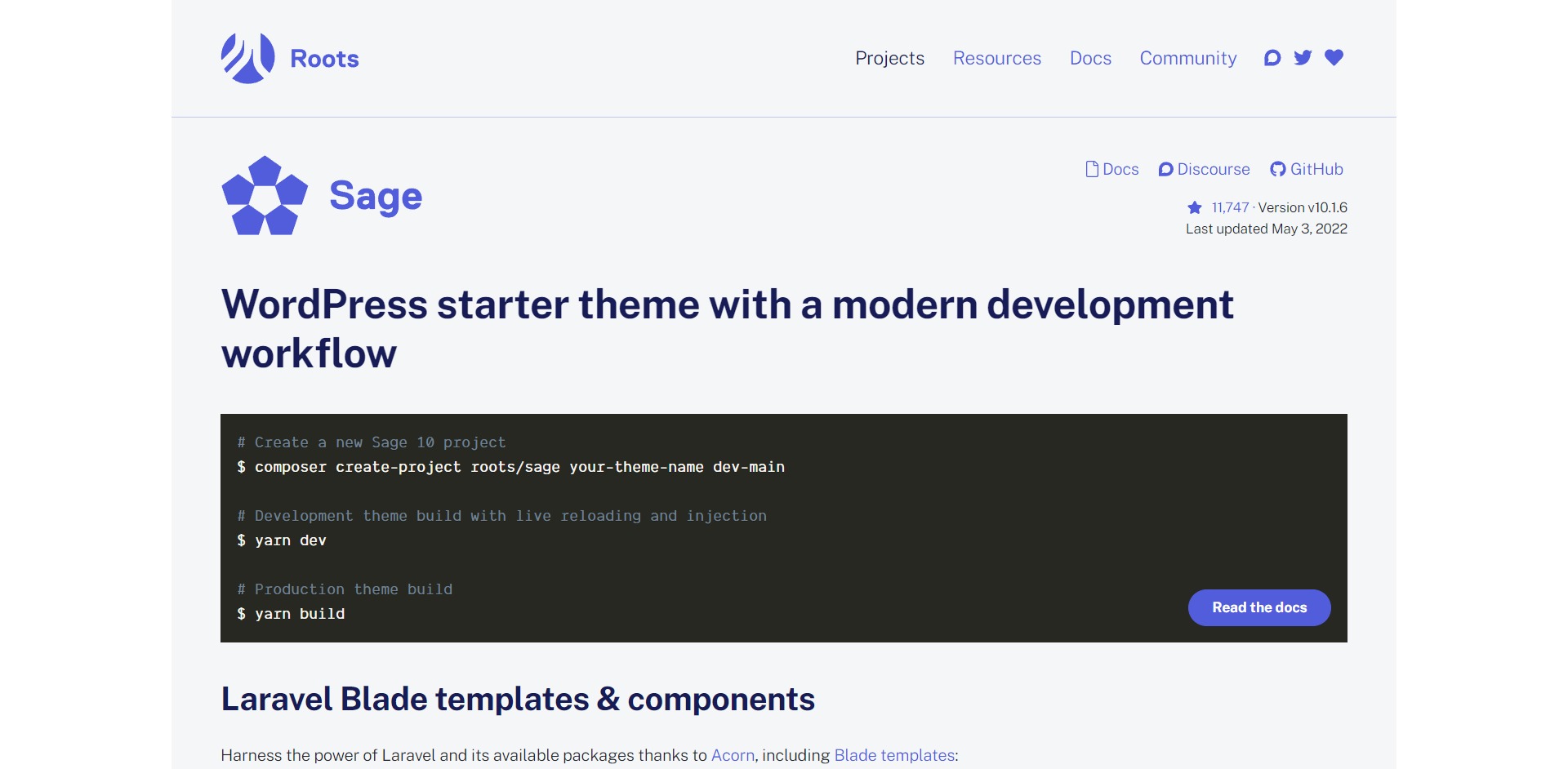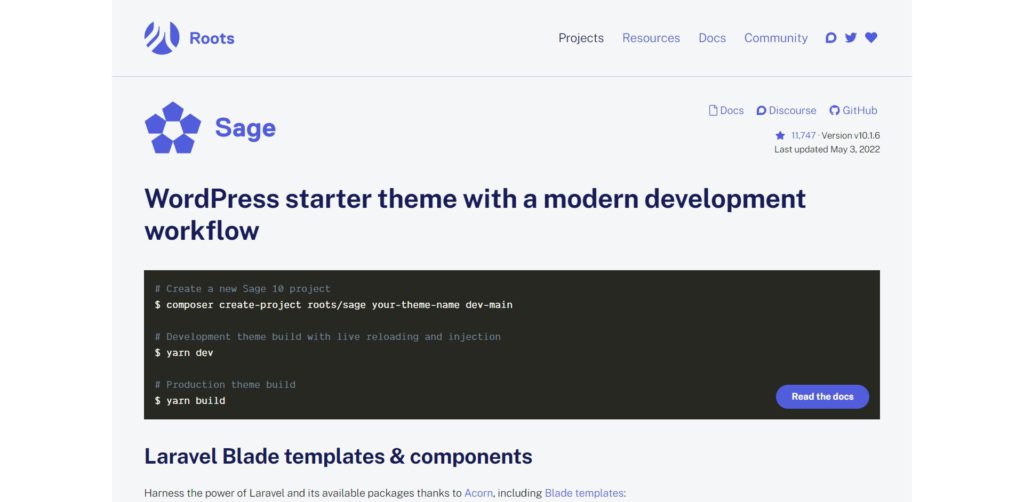 Pricing: Free
Development costs: start at $35/hourly per developer
Load time: Fastest
Maintenance: Hard
Highlighted Examples: www.zillow.com/blog/ ||www.lendingtree.com/
Sage is a starter theme from Roots.io, the creator of the WordPress boilerplate tool Bedrock. A starter theme is an example theme that you build on top of, making your style and layout changes.
Most developers use a starter theme to build a long-term project, and clients choose this kind of theme based on its scaling purpose, a positive tradeoff.
The maintenance costs of custom build themes are high, each edit you ask your developer, even on a contract, can be costly.
Other popular starter themes:
Conclusion
Choose your building tool wisely, with a long-term vision of each of the downsides and upsides of building using it. Choose your budget and research previous examples from the developer you're hiring to avoid bad surprises.